Michelin has announced that it is working on a new "communicating" tyre for the Spark-Renault SRT_01E Formula E. The announcement came during a demonstration run by the FIA Formula E Championship's electric single-seater race car at the 2014 Consumer Electronic Show (CES) in Las Vegas, USA.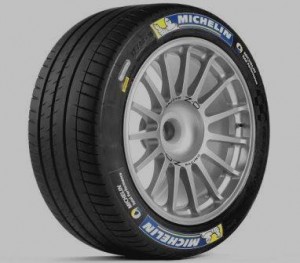 According to the company's press release, Michelin is contracted to develop an innovative tyre for the series during the championship's first two seasons scheduled to commence in September 2014. The company is an official partner and supplier to the FIA Formula E championship, which is the first sanctioned world championship for electric single-seater race cars.
Among the innovative features introduced by Michelin is the incorporation of an electronic tag within the tyre. The RFID chip (Radio Frequency Identification Device) will enable the tyres provided to competitors to be identified individually.
"These RFID chips will be embedded in the tyres' sidewalls to ensure their traceability, from their production right through to their return to the factory after use at the racetrack," explains Serge GRISIN, manager of Michelin Motorsport's four-wheel programmes.
"Traditionally, this information is collected using an optical bar code reader. These new electronic tags open up all sorts of possibilities in addition to simply identifying individual tyres. They will be able to collect data relating to running conditions including temperature and pressure sensors. It will be possible to record and access information covering the tyre's entire lifecycle."
The introduction of the RFID chips in racing tyres is also expected to ease the introduction of new regulations by motorsport organizers looking to limit the number of tyres competitors are allowed to use in the competition in order to trim the costs. Michelin also paid special attention to the longetivity of the tyres, since drivers will only be allowed to use one set of tyres per race, including free practice, qualifying and the race.
The new Michelin tyres feature an interior diameter of 18 inches in order to optimize energy efficiency and ease in the transfer of technology from motorsport to road tyres.  To that purpose, the tyres also feature a tread pattern designed for safe performance in both wet and dry conditions. The specification of the tyres will make the FIA Formula E Championship the first international single-seater racing championship to feature tyres of this size.
Moreover, Michelin was able to preserve its philosophy of Total Performance, as the new versatile and durable tyres will not influence lap time performances.
Development of the tyre designed for the FIA Formula E Championship will continue until the competition's kick off scheduled for September 13, 2014 in Beijing, China.
Recent decades have seen the company rise through the ranks and earn a reputation as a pioneer in the world of sustainable mobility through development of energy-efficient tyres and other bespoke initiatives. In keeping with its reputation, the Group created the first ever global event dedicated to new mobility technologies, the Challenge Bibendum.