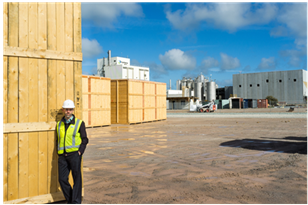 Fonterra has begun taking delivery of millions of dollars' worth of cheese equipment that will form part of the company's new state-of-the-art cheese plant in Stanhope.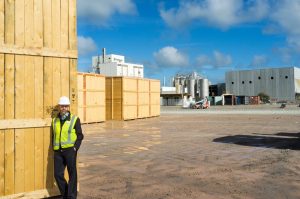 The plant – which is scheduled to come online by mid-2017 – will produce 45,000 tonnes of cheese each year intended for both the domestic and export markets.
Fonterra Australia Regional Operations Manager Jason Wright said the site was buzzing with activity with all the building, equipment arriving and the beginning of the assembly process.
"With the shell of the building nearing completion, we are now taking delivery of the equipment that will form the cheese making plant," he said.
"With a cheese plant this size, putting it together is like assembling a giant jigsaw puzzle. We have around one hundred staff and contractors on site each day helping with the build."
Mr Wright said that operating sustainably was one of Fonterra's core values, which is why the company had offered the large wooden crates that packed the equipment to the Stanhope and District Men's Shed.
"We've been in discussions with the Stanhope and District Men's Shed to see if they have any use for the large wooden crates for local projects," he added.
"They've happily accepted the challenge and will recycle the crates to build toys and Christmas decorations for underprivileged children which will be given away as Christmas presents. A truly commendable initiative."
The new cheese plant will increase Fonterra's cheese production by 50%.