National Manufacturing Week (NMW) 2014, Australia's leading manufacturing industry event, is kicking off today in Sydney, with extraordinary support from across the industry for this year's programs and features that are aimed at assisting the advancement of  manufacturing. This year's NMW features new Product Zones and more opportunities for gaining ideas, strategies and inspiration.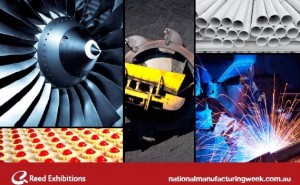 According to the media release, the event is supported by Strategic Partners including NSW Trade & Investment and Engineers Australia, plus peak industry bodies.
Peak industry body Engineers Australia pins NMW 2014 as a vital forum for innovation.
"The future of the Australian manufacturing industry lies in its ability to innovate. Engineers play an important role in driving technological advancements, ensuring Australia will continue to be a competitive, high-tech, knowledge-based economy for many years to come. With this in mind, Engineers Australia sees a positive future for the Australian manufacturing industry and is pleased to be a major partner in National Manufacturing Week, where the industry's innovations will be showcased," said Stephen Durkin, Chief Executive Officer Engineers Australia.
NSW Trade & Investment describes the event as "a powerful link in its strategy of helping NSW industry leverage investment and create jobs."
"NSW is the nation's manufacturing powerhouse, responsible for around a third of Australia's total manufacturing output and home to innovative and globally competitive manufacturing companies with world-class strengths in design, research, logistics and information/communications technology. NSW Trade & Investment is supporting a number of manufacturing companies from around the State to showcase their products at National Manufacturing Week," said Deputy Premier and Minister for Trade and Investment Andrew Stoner.
The Minister invited all delegates to visit NSW Trade & Investment Stand at NMW that is set to provide the backdrop for fresh perspectives on the diverse manufacturing sector of NSW.
"Australia's manufacturing industry is changing and — with thanks to our supporters — NMW 2014 is helping industry take advantage of emerging opportunities, with unfettered access to new insights, strategies and technologies," said NMW 2014 Exhibition Director, Anthony Reed.
"In all, NMW 2014 will be the forum for companies who want to make more use of innovation to boost their productivity or gain new capabilities. As industry's only opportunity to come together this year with industry leaders and experts, NMW will be a pivotal resource for companies looking to gain competitive advantage."
For details of NMW 2014's full program of exhibitors, networking events, presentations and demonstrations, go to www.nationalmanufacturingweek.com.au.