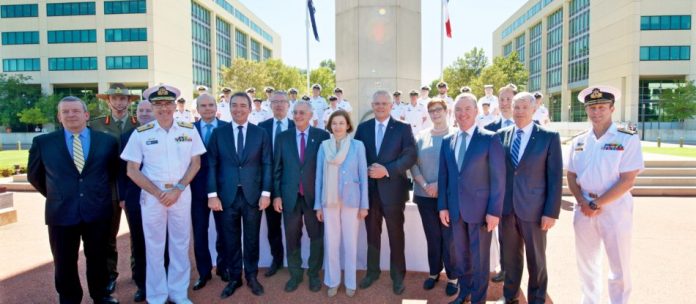 France's Naval Group has inked a $35 billion contract with the Australian Government to deliver 12 regionally superior submarines with leading edge capabilities.
Signed in the presence of Prime Minister Scott Morrison, the Future Submarine Program Strategic Partnering Agreement (SPA)  sets out the principles of cooperation between the two partners for the Attack class Submarine Program which is expected to create  thousands of direct and indirect Australian jobs
Naval Group Chairman and CEO Hervé Guillou said the deal will provide opportunities and long-term planning certainty for industry, allowing Australian companies involved in the program to invest in the capabilities needed to support their involvement in construction and sustainment activities.
He said the SPA will also see the company transfer new technologies and advanced manufacturing capabilities to Australia.
"This agreement with Australia will see Naval Group transfer the "know-how" and "know-why" to Australia to become a sovereign submarine nation," Mr Guillou said.
"We are very excited about the opportunities that lay ahead of us and are committed to delivering the Future Submarine Program for Australia.
"We are grateful to the teams from the Commonwealth of Australia and Naval Group who have worked hard to achieve this agreement."
Naval Group, which was initially selected as the preferred bidder for the project in April 2016, has already completed the pre-sizing of the future submarine, as well as the feasibility study that ensures the submarine meets functionality, scheduling and cost requirements.
Another project milestone was achieved with the turning of the first sod at the Future Submarine construction yard in Adelaide, where the fleet of 12 Future Submarines will be built.
In addition to establishing  its headquarters in Keswick, Adelaide, Naval Group has also commenced efforts to procure capital equipment related to the submarine construction yard including machining equipment, painting booths, a plate rolling machine, a plasma cutting machine, water jet cutting machine, rotating cradle and a milling machine.
Naval Group said it has engaged with over 1,100 Australian suppliers to date through expression of interests, requests for information, supplier visits and industry events to develop a in depth understanding of Australia Industry capability, adding that 169 Australian suppliers have already been pre-qualified for the program.
According to the company, suppliers of the top five pieces of equipment including the main motor, diesel generators, switchboards, batteries and weapons discharge systems have been reviewed and will be announced in 2019.
Image credit: http://naval-group.com.au