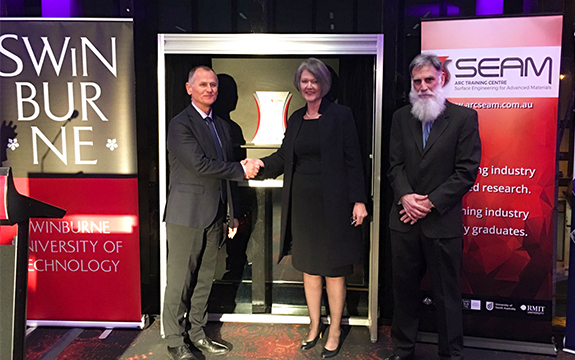 Swinburne University has officially launched the Australian Research Council (ARC) Training Centre in Surface Engineering for Advanced Materials (SEAM) – the largest manufacturing R&D centre of its kind in Australia.
The ARC SEAM Centre, to be led in collaboration with the University of South Australia, RMIT University and 29 industry partners, aims to solve crucial surface engineering problems to enable the Australian manufacturing industry to be more efficient and profitable in the global marketplace.
The centre has received $4.9 in Government funding to carry out world-leading research and product development in critical areas of manufacturing such as thin nanostructured films and thick coatings.
It will work with industry to develop new products to improve the service life or function of a component's exterior by adding functionalities such as corrosion resistance, antibacterial properties or wear protection.
Swinburne said the SEAM team of more than 77 researchers and industry leaders would investigate the gaps in surface engineering across 13 projects over the next five years.
Each of the projects addresses a specific need faced by an industry partner, such as refurbishment and remanufacturing of large, high value components for the mining sector; developing antibacterial films for medical implants to help control infection; and improving the surface for parts in marine vessels to minimise corrosion and extend their length at sea.
Minister for Education Dan Tehan said SEAM would help drive down the cost of wear and corrosion facing Australia's manufacturing industry, which is estimated to amount to up to 5% of the country's Gross Domestic Product (GDP).
"The research done by our universities can lead to the development of new products and innovations that drive job growth, business opportunities and productivity gains," the Minister said.
Distinguished Professor Chris Berndt said the Centre would also provide pathways for job creation and ensure a high-quality workforce in manufacturing through the training of future staff.
"Often we receive feedback from industry that it can take up to 12 months or more to train up a new employee," Professor Berndt said.
"The concept for SEAM is to provide the surface engineering industry with 'plug and play' graduates. SEAM graduates will have the necessary knowledge and basic skills in surface engineering to help their employees without the steep learning curve. SEAM really does cover it all."