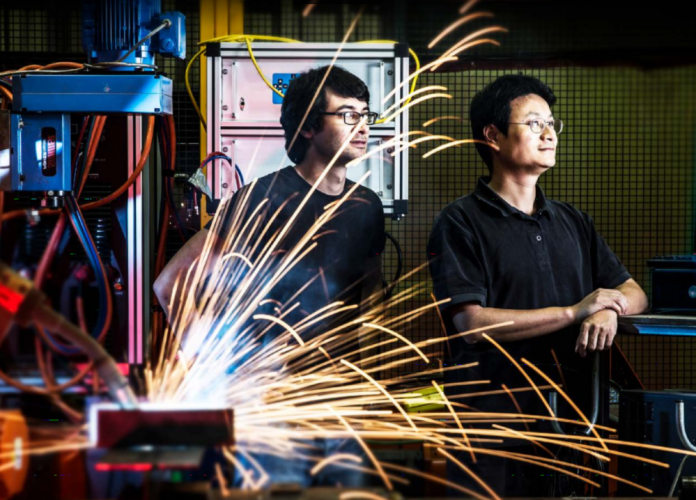 The University of Wollongong (UOW) has become home to a one-stop-shop that provides expertise, technology, equipment and training in automating steel fabrication to help manufacturing businesses adapt and compete.
The Facility for Intelligent Fabrication (FIF), which combines the knowledge and resources of the UOW, TAFE NSW and the Welding Technology Institute of Australia (WTIA), will enable local fabrication firms to access specialised knowledge and skills in automation, drawing on decades of research-based welding and automation expertise and welding training at both UOW and TAFE NSW.
Deputy Premier, Minister for Regional NSW, Minister for Skills, and Minister for Small Business John Barilaro MP said the FIF will develop and implement solutions to industry challenges and provide demonstrations of technology and proof-of-concept, in addition to supporting the adoption of new technology with technical education, training and certification support.
"There are current and emerging opportunities for local fabrication companies to participate in steel intensive defence and infrastructure projects that will be a source of long-term skilled jobs," Mr Barilaro said.
"Connecting industry with training and accreditation partners and research will put local businesses at a competitive advantage and will be a game-changer for the region."
UOW Faculty of Engineering and Information Sciences Executive Dean Professor Valerie Linton said the FIF partners will offer services that range from giving research-backed advice on automation technology through to providing robotics and automation fabrication solutions and augmented reality welding training for apprentices and trainees.
"Solving challenges in adopting automation, accessing apprentice training and gaining welding certification would typically require multiple touchpoints with more than one agency or organisation," Professor Linton said.
"Here we are creating a one-stop-shop where they can access impartial expert advice to improve their business."
Head of the TAFE NSW SkillsPoint for Innovative Manufacturing, Robotics and Science Karen Humphreys said the FIF was an example of how governments, businesses, industry and training organisations can work together to establish a facility with capabilities across planning, research, vocational training and development as well as access to the latest technology.
"TAFE NSW works in close partnership with industry, business and employers to design training that looks to the future and supports local economies," Ms Humphreys said.
"TAFE NSW students are equipped with the skills and training that they need to respond to the opportunities provided by high-growth and emerging industry sectors as well as existing employer needs."
Image provided