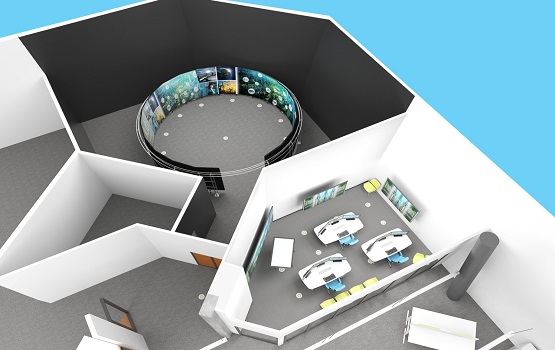 The rapid adoption of renewable energy technologies and the introduction of the smart grid is necessitating changes across the electricity sector in terms of the way energy is generated, transported, traded and consumed.
To facilitate this energy transformation, the Monash University has set up a new Grid Innovation Hub, a three-year program which aims to foster a collaborative industry partnership approach towards a secure, affordable, smart, reliable and environmentally responsible energy sector.
Hosted at Monash University's New Horizons building, it is a unique research, training and teaching platform for digital energy designed to accelerate innovation, up-skill professionals and the creation of a new generation of professionals for the electricity industry.
Featuring a state-of-the-art future electricity network control room simulator (commonly referred to as the Future Control Room) that is supported by best-in-class electricity network software packages, this new futuristic testing ground compliments Monash University's Victorian grid connected microgrid designed to demonstrate new technologies and ways to manage electricity.
Associate Professor Jacek Jasieniak, Director of Monash Energy Materials and Systems Institute (MEMSI), said the control room combined with the Monash microgrid enables a living laboratory for the hub partners to innovate new solutions while training the next generation of professionals.
"In 2016, the Climate Council of Australia reported that 28,000 new jobs were required for Australia to obtain 50 per cent renewable electricity," Associate Professor Jasieniak remarked.
"We live in an era facing unprecedented energy challenges that require greater collaboration and innovation than ever before."
Monash University President and Vice-Chancellor, Professor Margaret Gardner AO, said the Grid Innovation Hub will provide technical leadership and policy advice to the energy sector that will be vital for advancing Australia's leadership in energy innovation.
"The challenges facing Australia's energy sector are growing increasingly complex. The Monash Grid Innovation Hub combines cutting edge research and industry expertise to solve them," Professor Gardner said.
"The capabilities of the Grid Innovation Hub for collaborative research and training are truly world class, enabling the University to model and test energy solutions that are transferable worldwide."
The Grid Innovation Hub, which received around $6.6 million in funding, was established in partnership with AusNet Services, Advisian, Indra, redT energy, Senvion Australia and GE and Energy Exemplar.
Image credit: https://www.monash.edu/news/articles/new-futuristic-testing-ground-for-energy-sector