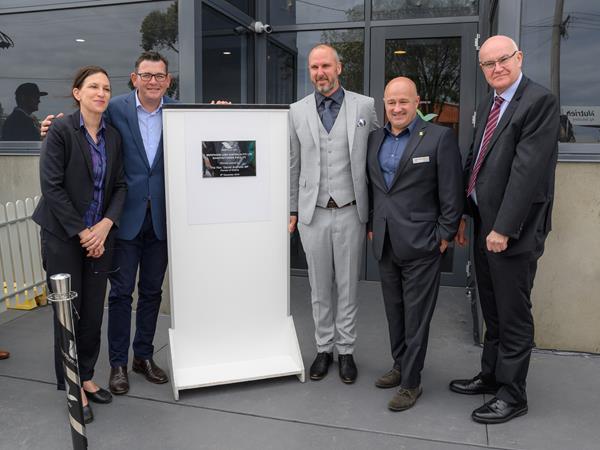 Victorian Premier Daniel Andrews last week joined representatives from Canadian medicinal cannabis company MediPharm Lab to open Victoria's first dedicated commercial medicinal cannabis processing facility.
Located at Wonthaggi in South Gippsland, the facility will process up to 75,000 kilograms of medicinal cannabis into resin each year for use in medicinal products – creating up to 60 new jobs and supporting local agriculture and business.
It features multi-phase supercritical CO2 extraction equipment, clean rooms and testing laboratories, all built to achieve GMP certifications.
Speaking at the ribbon-cutting ceremony,  Premier Andrews said the medicinal cannabis industry is an emerging industry for Victoria, with opportunities across manufacturing, agriculture and pharmaceutical industries that is attracting investment and creating new high-tech jobs.
"This new facility will give more people access to life-changing treatment and create regional jobs," Mr Andrews continued.
"No one should have to choose between watching their children suffer and breaking the law – that's why we legalised access to medicinal cannabis and why we're backing a local industry right here in Victoria."
MediPharm Labs Asia Pacific CEO Warren Everitt noted that MediPharm Labs was the first independent global manufacturing company to enter Victoria's medicinal cannabis industry, adding that it would partner with more than 50 agricultural growers across Australia – including 30 from Victoria.
"In this watershed moment, MediPharm Labs is proud to be opening the first specialized cannabis manufacturing facility in the state of Victoria setting the gold standard for this new and exciting industry," Mr Everitt continued.
"Building this state-of-the-art facility is a tremendous achievement for MediPharm Labs. We are thankful for the strong support from traditional land owners, government and from the Therapeutic Goods Administration."
Image credit: https://www.medipharmlabs.com/