South Australia's biotechnology research took a big leap forward as the $59 million Australian Research Centre for Cell Therapy was officially opened at the Mawson Lakes University on Wednesday, December 18.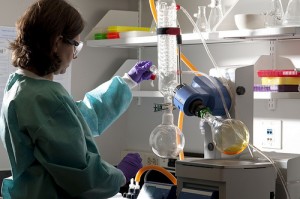 According to the media release issued by the University of South Australia, the new state-of-the art Research Centre will concentrate its efforts on finding a way to turn a promising cell into a viable cell therapy.
The University's Vice Chancellor, Professor David Lloyd says the CRC for Therapy Manufacturing will greatly assist in strengthening South Australia's future technological development and economic growth.
"This is top end research directed at solving significant health problems and the outcomes from the CRC will have markets worldwide," Prof Lloyd says.
"The fact that the University of South Australia is the lead institution in this venture is proof positive that this state has the skills and capacity to lead research and development that is world class."
Managing Director for the CRC, Dr Sherry Kothari says the Centre will help the country to turn its R&D program into new material-based manufacturing to increase the affordability, accessibility and efficacy of the kinds of cell therapies vital to battling big health challenges such as diabetes.
"We are aiming to develop ways to deliver cell therapies for a range of previously incurable or intractable diseases and in the CRC we have top research and development partners," Dr Kothari says.
"The goal of what we are doing is to bring together the very latest in materials science, cell biology, bioprocess engineering and clinical practice to build advanced treatments to cure and treat diseases that can respond to cell therapies."
According to her, the opening of CRC for Cell Therapy Manufacturing brings a dose of optimism for the shaky South Australian industry and should serve as a model for what is possible through collaboration.
"Bringing together great minds, sound partnerships, a spirit of innovation and enterprise and the government support to make big things possible is a recipe for success," she says.
"This is a $59 million project backed by $20 million from Government with the difference made up from cash and in-kind investment from industry and other partners and it is that investment partnership that gives us the opportunities to bring scientific innovation to life. The outcome will not only improve and save lives it will also build core expertise in biomedical manufacturing technologies in South Australia and make us a leader in one important aspect of future medicine."