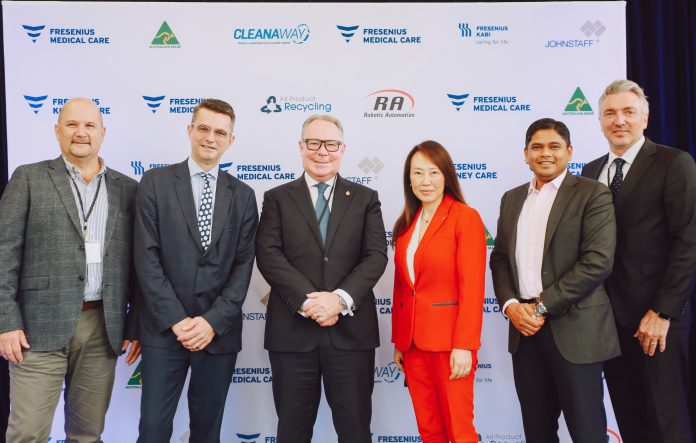 Media Release by Fresenius Medical Care
Kidney failure, where the kidneys' work needs to be replaced with dialysis, affects more than 14,500 people in Australia.1
Dialysis treatments require the use of sterile, single-use products, and so the materials used for these consumables are of utmost importance for both the health of patients and the environment.
Fresenius Medical Care, a world's leading provider of products and services for individuals with renal diseases, officially opened a state-of-the-art manufacturing plant today, 5 May 2022. The manufacturing plant will produce 100% PVC-free fluid bags in fully recyclable pouches used for dialysis treatments.
The opening event included a plaque dedication ceremony with guests officiating included Dr. Hugh McDermott, MP, State Member for Prospect; The Hon. Shayne Mallard, Member of the Legislative Council; Karl-Heinz Schmitz, Deputy Consulate-General of the Federal Republic of Germany (NSW), and Shireen Brooks, representing Australian Made.
Located in Smithfield (in the Western part of Sydney), the new plant, built to replace the organisation's previous facility, will become the Australian manufacturing hub producing 2.4 million bags each year, supplying dialysis clinics throughout Australia, as well as exporting to New Zealand and Hong Kong.
The dialysis fluid bags manufactured at the new plant adhere to the high global standards and quality control of Fresenius Medical Care, and are completely free from PVC, allowing the pouches to be easily recycled. Additionally, the bags minimise waste by using a collapsible canister that takes up to 90 per cent less space when empty, and use one-fifth of the material of traditional products.2
General Manager of the new manufacturing plant, John Amiradaki, said that the new facility with additional automation has increased production capacity and efficiency, while remaining committed to the organisation's environmental responsibility.
"Using new intelligent technology means we have been able to reduce wastage, use less generator power, and enhance quality control. At the same time, our strong recycling practices have enabled around 7,000 kg of cardboard and 2,300 kg of plastics to be recycled in the first quarter of this year", he said.
Fresenius Medical Care's investment in this project has had, and will continue to have, a significant positive impact on the local economy. The project, which was undertaken in partnership with Australian Made, involved six months of planning and 12 months of construction, employing 238 local construction workers.
Australian Made is a not-for-profit public company established in 1999 by the Australian Chamber of Commerce & Industry (ACCI) and the network of state and territory chambers of commerce, with the cooperation of the Federal Government. Underpinned by a third-party accreditation system, it ensures products that carry the logo meet the criteria set out in the Australian Consumer Law and the respective Code of Practice.
Anbu Srinivasan, Managing Director, Fresenius Medical Care, ANZ and Singapore said, "The new manufacturing plant, built during the pandemic, is testament to what can be achieved when industry, government, and stakeholders work together, and demonstrates Fresenius Medical Care's commitment to Australian-made products, and to a cleaner and healthier future for our patients and our communities."
---
References:
1.    ANZDATA – Australia and New Zealand Dialysis and Transplant Registry. (2022). Latest Analysed Data to 31-Dec-2020. Retrieved May 2022, from 

https://www.anzdata.org.au/anzdata

/
2.    Fresenius Medical Care. Data on file. Retrieved May 2022.