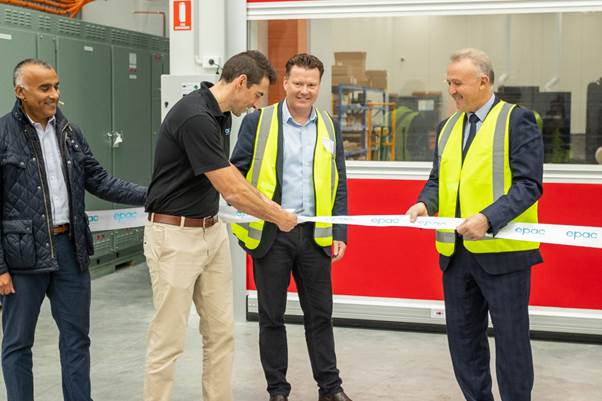 Media Release by ePac Flexible Packaging
ePac Flexible Packaging (ePac) has today celebrated the official grand opening of its first Australian manufacturing facility in Melbourne's thriving industrial district, Coburg North.
The $10 million investment is projected to create 40 new jobs in 2022 and up to 160 new jobs in Australia by 2026, offering a sizeable boost to the Australian economy.
As an industry leader in digital print technology, ePac delivers fast, cost-effective, onshore flexible packaging to local businesses, earning them a place next to big brands on supermarket shelves.
With the recent addition of a second pouch production line, ePac's new manufacturing facility is equipped to respond to the growing demand of Australian start-ups looking to scale up their offerings, which has been accelerated by ongoing international supply chain issues and a rising popularity in the support local movement.
Jason Brown, ePac Flexible Packaging Managing Director, Australia says, "In recent years, Australians have increased their support for small businesses in their community. ePac's first Australian manufacturing site comes at an opportune time, providing small business owners who are looking to scale up with a fast, costeffective and sustainable offering to meet their packaging needs. ePac is proud to play a role in revitalising the local community by supporting small businesses whilst also creating new jobs."
Armed with breakthrough digital printing technology, ePac's first Australian manufacturing site incorporates an order-to-demand model, revolutionising flexible packaging for local business owners, avoiding the hassle of sunken costs associated with inventory and obsolescence, while circumventing pressures on global supply chains.
ePac offers brands a range of sustainable packaging product lines, encouraging brands to meet and exceed their sustainability goals in not just their packaging selection, but in their business model. The "Order-to-Demand" model and low minimums that ship in 10-15 business days, can help businesses reduce inventory and obsolescence which decreases the amount of waste that enters recycling streams, landfills, and the environment.
Looking ahead, ePac plans to further its mission of reducing carbon footprint and unnecessary waste by establishing a new line of compostable packaging by the end of the year.