With over 300 exhibiting companies establishing new relationships within Australia's fast-changing manufacturing industry, this year's National Manufacturing Week (NMW) that took place 13–16 May in Sydney, delivered solid outcomes for participants.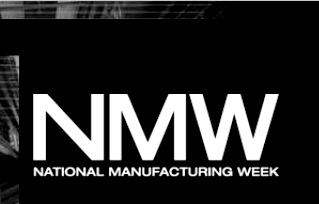 NMW has once more helped create real opportunities for all participants as the only event of its kind that brings the whole industry together under one roof.
Roughly 6300 trade visitors attended NMW 2014, with more than 40% of them being executives with purchasing power: engineers and Directors/CEOs/GMs/Owners and equivalent from Government, Defence, the resources sector and other large-budget organisations through to innovative smaller businesses seeking out high-value new technologies.
The newly introduced programs NMW Solutions Theatres and One-to-One Meetings were a great success, bringing together exhibitors with potential buyers and providing a platform for promoting ideas and establishing connections.
"I had opportunities for several meetings — and one, in particular, was just outstanding. I was able to meet with the GM of Production of a company that has 12 welding bays, and who commented that our gear solved all his problems with fixture changes. He's someone who might not have stumbled across Leussink without the meetings service — and for our company, he's a great new lead," said Russell Brinkworth, Demmeler Account Manager at Leussink Engineering.
NMW 2014 exhibitors were also provided with an opportunity to meet customers that they haven't made contact with.
"We saw NMW 2014 as a good opportunity to boost our profile in NSW — and we've certainly done that. We've made some good contacts, including with companies from markets I would never have thought of; for instance, for an application in mobile dog-washing vans.  NMW has been well worth the investment," said Owen Stam, General Manager and Executive Director at Pacific Urethanes Pty Ltd.
"It is always fantastic to see people from so many different industry sectors making new connections and talking about new ideas. There was a real buzz across NMW 2014 – which I am sure, will translate into real opportunities in the weeks and months ahead," said Anthony Reed, NMW Exhibition Director.
Reed Exhibitions has announced that NMW 2015 will take place in Melbourne from 26–29 May, co-located with Austech and the SMART Supply Chain & Logistics Conference & Expo.
For more information about participating in NMW 2015, contact guy.freebody@reedexhibitions.com.au or visit www.nationalmanufacturingweek.com.au