A University of Southern Queensland (USQ) researcher is attracting international attention with his work on a technology that would allow real-time 3D visual communications in high definition.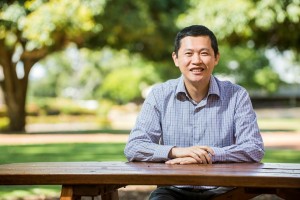 Associate Professor Wei Xiang is developing a world first glasses-free 3D telehealth system which would offer an "Avatar-like" telehealth experience and make glasses-free 3D communications a reality.
"The technology will provide greater detail and depth than existing technologies and improve the ease of use and adoption of telehealth by medical professionals and consumers. One of the biggest obstacles for mass market adoption of telehealth is a lack of confidence in virtual face-to-face consultations, due largely to technological limitations of standard 2-D telehealth," Mr Xiang said.
"Our 3D telehealth system is possible due to our state-of-the-art multi-view 3D video compression, transmission and display techniques, which are then unified in a single and powerful 3D video compression and coding framework."
He said his research in 3D communications was aimed at improving healthcare delivery to patients in regional and remote areas.
"Australia is a country with a diverse population and people in regional areas deserve the same level of quality healthcare service. Our solutions are equally meaningful for metropolitan Australians having difficulties in seeking timely healthcare services due to traffic congestion and parking headache."
Mr Xiang's work did not go unnoticed in the world of science and he was recently named a 2015 "Tsinghua Global Scholars Fellow" at Tsinghua University in Beijing, China.
"It was a highly competitive nomination process, which attracted international research leaders primarily from the world's top 100 universities. Only 17 researchers were chosen from around the world this year, hailing from various disciplines including math, engineering, medical sciences, business and economics," he said.
"I'm overwhelmingly honoured that a globally leading university such as Tsinghua considers me a valuable asset to its international collaborative research programs."
Later this year, Associate Professor Xiang will spend a month at Tsinghua University to undertake collaborative research, joint publications, and co-supervision of PhD students.
"Tsinghua University is China's top university, ranked first in China and 26th in the world by Times Higher Education World Reputation Rankings (2015)," he said.
"The Fellowship program is jointly funded by Tsinghua University and the China's Ministry of Education."