Okuma Australia and New Zealand — a leader in advanced technologies, automated systems and robotic technology — has announced an exclusive distribution agreement with RoboJob, the Belgian market leader in the automatic loading and unloading of CNC machines.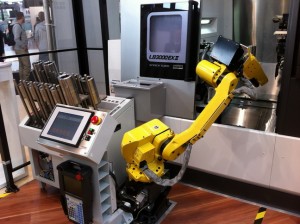 According to the company's news release, the agreement was signed after both companies attended a networking seminar.
"After researching the markets we found great similarities between our market in Western Europe and those in Australia and New Zealand," said Helmut de Roovere, CEO of RoboJob.
"In Western Europe we have similarly high labour rates and a large number of small to medium sized job shops. Our own manufacturing experiences led us to pursue all the available days in a year for production and even to extend our operations to a second and third shift. When we analysed our employee structures we found that like most businesses, there are repetitive and creative tasks. We wanted to take people doing repetitive tasks and give them new creative roles in our operation. This boosted our planning, innovation, output and work satisfaction enormously. The changes we initiated using newly developed RoboJob technology delivered us massive gains in efficiency, productivity and business returns."
Okuma offers integrated, on-board production gantry robots and tailor made stand-alone (floor) robotic solutions. The agreement with RoboJob contributes greatly to the extension of the Australian and New Zealand offering.
"We saw that Okuma had been strongly involved in applying robots to the job shops and their experience and knowledge were important factors for our market considerations," said RoboJob Business Development Manager Jelle de Roovere.
"The great advantage of RoboJob is its complete flexibility and ease of use and setting. We developed our own interactive operator interface screen that only requires the customer to input the main features of the job, a procedure that can be done in a matter of minutes. Our Robot units are so uniquely compact that machine door access for the operator is always clear for manual intervention and it is also possible to move the unit from machine to machine."
Okuma now expects to provide an extended range with even more flexible cost effective solutions for its customers.
"When we first saw the RoboJob product at EMO in Hannover, Germany, we could see the great potential for Australian and New Zealand engineering shops downstream, which in reality is now. Thus we studied the RoboJob range in detail and decided it delivers tremendous potential for increasing efficiency, productivity and improving profitability. Naturally the use of FANUC robots fits well with our prior experience with them and our long term association as a FANUC distributor in Australia," said Phil Hayes, Managing Director of Okuma Australia.