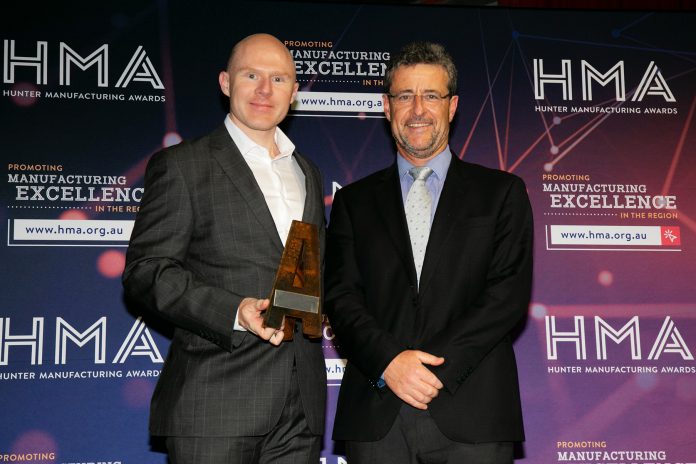 Media Release
Orica's digital fragmentation measurement technology, FRAGTrack™ has been announced as the winner of the 2019 Hunter Manufacturing Award (HMA) in two respective categories – 'Excellence in Innovation' and 'Excellence in Product Design'.
In the 'Excellence in Innovation' category, FRAGTrack™ was recognised for its unique integration with the BlastIQ™ Digital Blast Optimisation Platform suite, capturing real-time fragmentation measurement data for optimising drill and blast operations and improving downstream efficiencies in the mining process.
In accepting the award, Senior Manager – Digital Solutions, James Dampney said: "Our focus on customer-centric innovation has always been a cornerstone of Orica's strategy, this award is recognition of that focus. Driven by the needs of our customers to accurately assess blast outcomes including fragmentation, we continue to invest in developing intelligent and autonomous measurement systems that are easily integrated into existing mine ecosystems."
The state-of-the-art FRAGTrack™ design showcases a successful collaboration between Orica and two Newcastle based enterprises – Design Anthology (industrial design) and Newie Ventures (electronics). Highlighting the benefits of product design utilising a first principles of design approach, to deliver reliable and accurate performance whilst working in some of the toughest climatic conditions. Putting the end customer first whilst offering improvements in both manufacturing of the FRAGTrack™ unit and its ongoing maintenance.
Dampney continues, "FRAGTrack is designed to improve productivity, reduce costs and optimise plant throughput through the automated measurement and integration of fragmentation data into the drill and blast planning and design processes. This creates an opportunity for our customers to significantly improve downstream outcomes"
Orica has received several prestigious awards this year for its innovative technology, including Mining Magazine's Drill & Blast Award and Austmine METS Innovation Award for the world's first WebGen™ wireless initiating system and GroundProbe's Australian Financial Review's (AFR) win as most innovative company for agriculture, mining and utilities sector.
Image Credit: www.orica.com