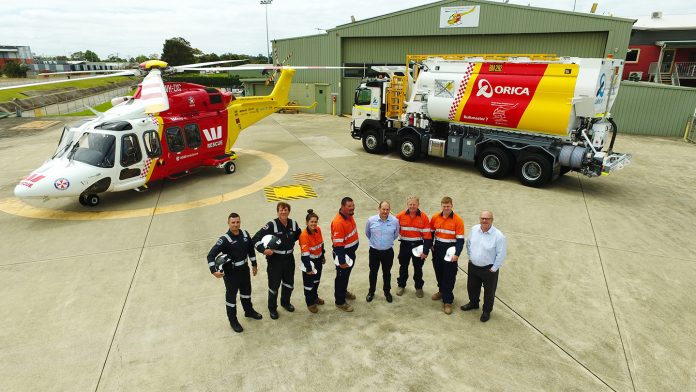 Orica has donated a new Bulkmaster 7 Mobile Manufacturing Unit (MMU) to the Westpac Rescue Helicopter Service at a special event in Broadmeadow, NSW.
Orica, which has been a supporter of the Westpac Rescue Helicopter Service since 2015, said the 47 tonne capacity, yellow-and-red mobile manufacturing unit is donning the colours of the Service to raise funds and awareness.
"The Westpac Helicopter Service is a vital lifeline for the community. We're so proud of our partnership with the Service that we've painted one of our Bulkmaster 7 trucks in their colours, to lend support and spread awareness." said Orica's Vice President for Australia Pacific, Todd Peate.
"We have operations at numerous sites throughout the Hunter Valley and northern New South Wales from Newcastle to Gunnedah, and it's reassuring to know that this life saving service is there for us and the community."
"Our partnership expands on the existing support from Orica employees who have generously contributed through Orica's 'Dare to Share' payroll deduction program over many years, with Orica matching our employee donations, dollar for dollar".
The Westpac Rescue Helicopter Service is a not-for-profit organisation providing world class aeromedical, search and rescue services, free of charge to those in need 24/7.
The service now operates from three bases in NSW (Belmont, Lismore, Tamworth) with aircraft maintenance, engineering and support teams in Broadmeadow.
CEO Richard Jones, said that support from companies like Orica was critical to ensuring future operations every day of the year.
"No one ever pays to be assisted by the Service, but its value is priceless. We truly appreciate the long term and valued support from Orica," he said.
"This is an incredibly creative promotional push for our service. We are fortunate to have many people support us in so many diverse ways. We know the great history of Orica's colours and we're humbled and privileged that Orica has chosen to support our Service this way."