Brisbane-based medical device company Oventus has opened a state-of-the-art facility in Melbourne to 3D print new anti-snoring devices that are customised to an individual's specific needs.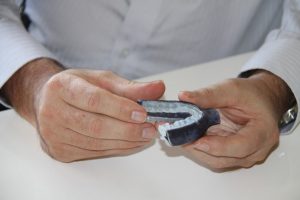 Located at CSIRO's Clayton site, the new 3D printing facility will manufacture the company's custom-made 'O2Vent' device that stops patients from snoring by alleviating multiple sites of obstruction including the nose, soft palate and tongue.
Speaking at the launch of the new plant, Minister for Industry, Innovation and Science Greg Hunt said this revolutionary personalised lightweight titanium device could benefit the estimated one million Australians that suffer from sleep apnoea.
"The facility will manufacture these important O2Vent devices that have the potential to change the lives of millions of people around the world with sleep-disordered breathing," the Minister said.
"The partnership between Oventus and CSIRO is an example of collaboration between private sector and public research, creating businesses opportunities and new jobs – a key aim of the National Innovation and Science Agenda."
Oventus recently listed on the ASX following a successful IPO that raised $12 million. The company is also set to launch onto the US market in early 2017, where over 37 million people regularly suffer from snoring.