Polaroid, the manufacturer of the iconic Polaroid camera, has entered the 3D printing market with the official launch of its first 3D printer at CES.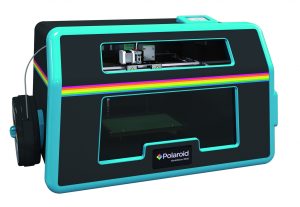 The ModelSmart 250S is a plug and play desktop printer that comes with automatic calibration and a built-in camera that monitors prints remotely via a smartphone app.
Polaroid inked a partnership agreement with Environmental Business Products Ltd to also launch a proprietary 3D modelling software called Polaroid Prep, as well as a filament line of 9 colours of PLA and wood filament.
Under the terms of the 3-year deal, EBP will be the sole manufacturer of the Polaroid 3D printer and consumables range and will have exclusivity in 15 European markets.

"Throughout our history, the Polaroid brand has been associated with creating innovative products, but we're also committed to making innovative technologies accessible to everyone. Just as the first Polaroid Land camera enabled people to watch a picture instantly develop, our relationship with EBP will allow us to bring the magic of creating an object right before your eyes to consumers across Europe," said Scott W. Hardy, President and CEO of Polaroid.
"We are passionate about 3D print technology. Partnering with a trusted, household name like Polaroid will help 3D printing become part of everyone's everyday life. EBP believes in offering the most creative and innovative experiences so it is great to partner with a brand which embodies the same values as us," added Aleem Hosein, Managing Director of Environmental Business Products.
For more detailed info, please go to http://www.polaroid.com/