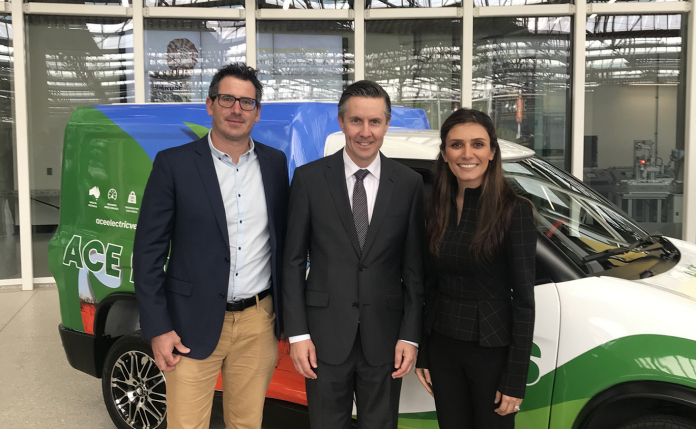 University of Queensland researchers are working with Queensland-founded startup Australian Clean Energy Electric Vehicle Group (ACE-EV) and Flinders University to develop a new generation of sustainable composite materials designed specifically for electric vehicles.
ACE-EV managing director Greg McGarvie said UQ's cutting-edge bioengineering and nanotechnology research had convinced the company to keep its research base in Queensland.
"Working together, we can all be part of a solution to the impending climate emergency, softening the impact by creating new jobs, new careers and new businesses that profit from reducing carbon footprints," Mr McGarvie said.
"A transition to electric vehicles that use bio-based materials like 'green' plastics will mean cleaner, healthier cities and significant savings in household budgets."
ACE-EV introduced its electric van in Australia in August and is now looking to ensure the vehicle is designed and built in Australia, using Australian research expertise.
Dr Nasim Amiralian, a Research Fellow from the Australian Institute for Bioengineering and Nanotechnology will lead the research team, and said UQ's researchers were passionate about creating manufacturing opportunities for Australia in the bio-economy.
"Working with ACE-EV will hopefully be the beginning of a new chapter in Australian automotive manufacturing," Dr Amiralian said.
Dr Michael Heitzmann, the Co-Director of the UQ Centre for Advanced Materials Processing and Manufacturing, said UQ would use its exceptional expertise in developing bioplastics and composites to help the self-funded start-up incorporate these sustainable materials in its manufacturing processes.
"It's a logical next step for our UQ team to support a local start-up in implementing these new materials," he said.
"We see great potential in replacing non-renewable traditional composite and polymers with bio-based materials that have a much lower carbon footprint."
Image credit: https://www.uq.edu.au/