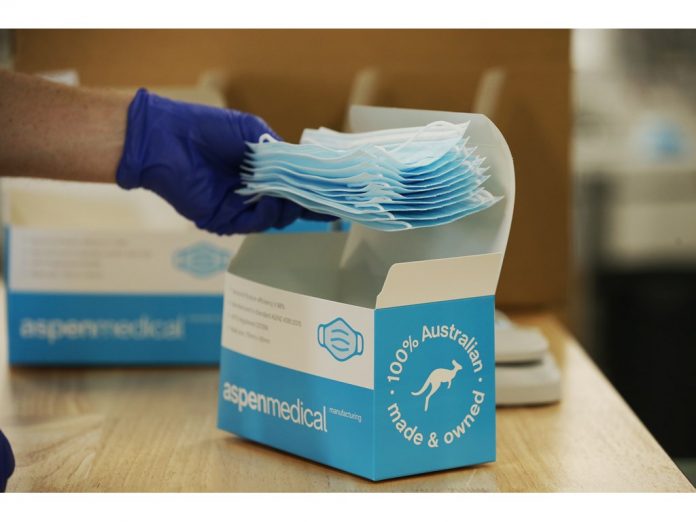 Brendale healthcare manufacturer Aspen Medical is producing two million face masks per month following the launch of a new manufacturing facility with support from the Queensland Government's Advance Queensland Industry Attraction Fund.
The company, which employs more than 3000 highly trained professionals, received funding support as part of the Palaszczuk Government's plan to mobilise Queensland's multi-billion-dollar manufacturing sector to deliver Personal Protective Equipment (PPE) for front-line health workers.
Assistant Minister for Health and Member for Pine Rivers Nikki Boyd said Aspen Medical had invested approximately $2 million to purchase cutting-edge machines to produce three-ply and N95 face masks, to fit out the factory and commission the machinery.
"In the future the company will look to expand its manufacturing capabilities across other product lines for both the domestic and export markets," Ms Boyd continued.
"Having a manufacturing plant like this in our community is great for Pine Rivers locals, not only is it instrumental in fighting coronavirus, manufacturing is vital for jobs growth in the northern suburbs.
"That's why manufacturing is an important plank in the government's economic recovery plan – to create jobs and stimulate our economy by investing in an industry with huge potential for the future in Queensland."
Aspen Medical Founder and Executive Chairman Glenn Keys said the company has recently ramped up production of the more clinical N95 masks and will begin producing four million masks a month by mid-October.
"Our Queensland facility will produce PPE to the highest Australian standards and ultimately source all raw material from within Australia," Mr Keys concluded.
Aspen Medical, which was founded in 2003, operates across Australia, the Pacific, the United States, Europe, Africa and the Gulf region.
The company was named as the joint winner of the Exporter of the Year at the 2018 Australian Export Awards in addition to winning the Health and Biotechnology category.
Image credit: https://statements.qld.gov.au/