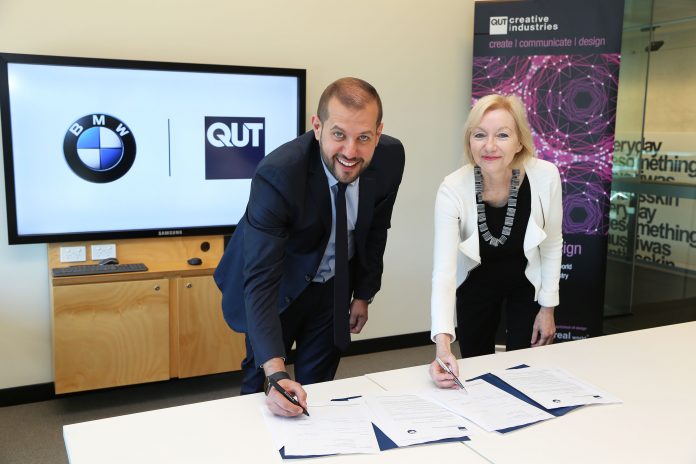 The Queensland University of Technology (QUT) has entered into a design partnership with German carmaker BMW that will give design students the technical skills to undertake paid internships at the Munich headquarters.
The deal was inked by QUT's Creative Industries' Executive Dean, Professor Mandy Thomas, and Dr Jimmy Nassif, Head of IT Planning Systems at BMW Logistics, just two days after QUT Vice-Chancellor Margaret Sheil visited the BMW headquarters in Munich to sign a memorandum of understanding between QUT and BMW under which the design partnership will fall.
Professor Thomas said the initiative would also open doors for a postgraduate research program that aligns with BMW and QUT's areas of interest and expertise, and create opportunities for collaborative research and development programs between QUT academics and BMW staff.
"The establishment of a design partnership in Brisbane will provide extraordinary opportunities for QUT design students," Professor Thomas said.
"They will follow in the footsteps of 16 students who have gone through the BMW internship program over the past three years, including 12 paid positions based in Munich.
"The students have been able to work across various BMW Innovation departments working with cutting-edge emerging technologies such as VR, AR, robotics, autonomous systems, artificial intelligence and big data.
"Our first ever industrial design intern placed with BMW was Dylan Sheppard, the Design Institute of Australia Queensland Graduate of the Year in 2017. He now has a lifetime contract with BMW – that's the kind of real world experience that is life-changing."
The  BMW+QUT Design partnership, which will be spearheaded in Brisbane by Dr Rafael Gomez from QUT's Creative Industries Faculty and Dr Nassif, will involve workshops for BMW-led projects and a bespoke program to give undergraduates technical knowledge and other experience required to undertake an internship and further their career options.
Dr Gomez said the initiative will build on the existing collaboration between QUT's Industrial Design program and BMW, Munich, which was established in early 2018.
"This year will see this collaboration grow with students working at two new labs in Munich (Autonomous Systems and Robotics)," Dr Gomez said.
"BMW-initiated student project collaborations have also been established with the Industrial Design honours program, and students can work on these as part of their final year project. Three students who have done this have continued on to be part of the internship program in Munich.
"BMW has found QUT industrial design students to be extremely adaptable, innovative and excellent at applying their knowledge to any given problem.
"We teach students to have a broad skillset, be digital savvy, have creative thinking skills, and be comfortable with managing complex problems. QUT believes that such talent should be rewarded with opportunity, which they are getting at BMW," Dr Gomez concluded.
Image credit: https://www.qut.edu.au