Stratasys business unit RedEye, one of the world's leading 3D printing service bureaus, has partnered with Lockheed Martin's Space Systems Company to create large industrial parts using additive manufacturing technology.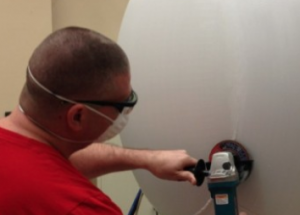 Using RedEye's Fused Deposition Modelling (FDM) technology, the company 3D printed two large fuel tank simulators for a satellite form, fit and function validation test and process development. The project, which is one of the largest 3D printed parts produced by RedEye, was developed at about half the time and cost it takes for traditional manufacturing to do the job.
"With RedEye's machine capacity and engineering support, we were able to successfully build these tank simulators in a fraction of the time and at a fraction of the cost," said Andrew Bushell, senior manufacturing engineer at Lockheed Martin Space Systems Company, in a press release. 
The FDM technology creates parts layer by layer using real and high-performance thermoplastics, which are tough enough to be subjected to heat, chemicals, humidity and mechanical stress. The technology will allow Lockheed Martin to usher its design faster to the market and participate in a competitive contract bidding process.
The biggest tank measures 15 feet long and was built in 10 different pieces, while the smaller one was built in six different pieces. The enormous size of the parts required customised fixtures to be created in order to support the structures. Final assembly of the tanks required 240 hours.
"This project is unique in two ways — it marks the first aerospace fuel tank simulation produced through additive manufacturing and is one of the largest 3D printed parts ever built," said Joel Smith, Strategic Account Manager for Aerospace and Defence at RedEye.
"Our ability to accommodate such a large configuration and adapt to design challenges on the fly, demonstrates that there really is no limit to the problem-solving potential when you manufacture with 3D printing."
RedEye and Lockheed Martin are expected to engage in other 3D printing partnerships this year.
Read the entire case study of the project here.