RedFlow Limited, a Brisbane-based developer of unique zinc-bromine "flow" batteries, and Schneider Electric, a global leader in energy management, have announced the signing of a master supply agreement for developing energy storage systems incorporating the RedFlow battery.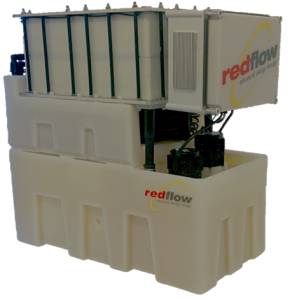 According to the news release on Proactive Investors Australia, the deal with Schneider further highlights the potential of the RedFlow battery and provides a major voice of confidence in the company's operations, as demonstrated by the recently concluded flow battery manufacturing deal with Flextronics and the $2 million investment by NBN's director and entrepreneur Simon Hackett.
"Our smart battery technology is ideally situated to some of the markets Schneider currently service and we are working with Schneider to identify solutions for those customers," said Stuart Smith, Chief Executive Officer for RedFlow.
"Our agreement with Schneider is not industry specific and offers us the opportunity to expand our business into all channels Schneider currently operate in and service, including those with unreliable grid supply as well as off-grid and micro-market grid markets."
RedFlow batteries have already undergone a series of trials with the Schneider inverter using a 360V DC BUS which further validates the company's technology.
"RedFlow's technology offers customers a range of cost and environmental benefits in certain applications," said Dirk Krueger, Queensland State Manager for Schneider Electric.
"The potential reduction in diesel run time and use of lead acid batteries in some applications could have benefits for both customers and the environment."
RedFlow has also launched a fully underwritten $6.06 million entitlement offer priced at $0.11, allowing participants to make a paper profit over 70%, based on RedFlow's latest price of $0.19.
Independent research and advisory firm Lux Research estimates that the energy storage market will be worth around $114 billion by 2017, with zinc bromine batteries expected to have a 19% market share.