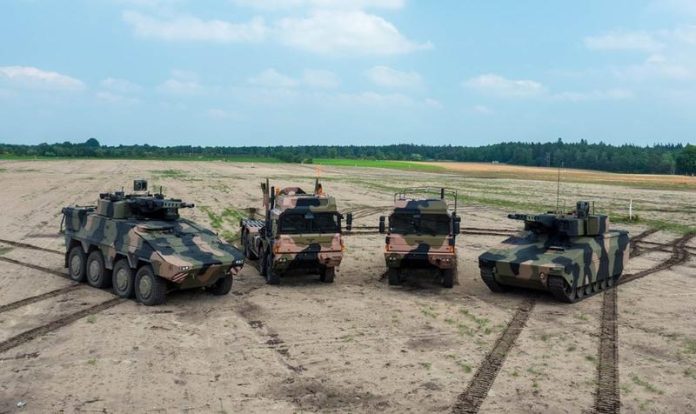 The Federal Government has officially opened Rheinmetall Defence Australia's Military Vehicle Centre of Excellence (MILVEHCOE), which is expected to support the creation of hundreds of long-term jobs for Queensland workers.
Located in Redbank, Queensland, the MILVEHCOE facility will build and assemble the majority of Boxer Combat Reconnaissance Vehicles, which are being delivered to the Australian Army under the $5 billion LAND 400 Phase 2 project.
Rheinmetall will also use the facility to conduct integration, support and heavy grade repair for the logistics trucks and modules being delivered under the LAND 121 Phase 3B and 5B projects.
Prime Minister Scott Morrison said the MILVEHCOE would create more than 450 long-term jobs and become a national asset for military vehicles.
"We are committed to keeping Australians safe, while protecting the nation's interests in a rapidly changing global environment," the Prime Minister continued.
"This week's budget has seen the Federal Government bring forward $1 billion worth of capability projects and reservist days to support jobs, the Australian defence industry and the wider economy."
"This Queensland centre will be where some of the most advanced armoured vehicles in the world will be produced, by Australian workers."
Defence Minister Linda Reynolds said the vehicles from MILVEHCOE would deliver 'a new level of capability for the Army'.
"As outlined in the 2020 Force Structure Plan, the Boxer will provide enhanced mobility, firepower, protection and situational awareness to our troops," Minister Reynolds said.
"They will allow our Australian Defence Force personnel to rapidly deploy, achieve their missions and importantly, return home safely."
Ms Reynolds also congratulated Rheinmetall Defence Australia for securing work to export at least 30 Lance Turrets from MILVEHCOE to Hungary.
"I join the Prime Minister in congratulating Rheinmetall Defence Australia on securing new export opportunities," she said.
"A resilient and internationally competitive defence industry is essential to Australia's national security."
Defence Industry Minister Melissa Price stressed that Australian industry will play a vital role delivering and sustaining key Australian defence capabilities at the facility.
"Rheinmetall will use suppliers across Australia to design, build, assemble, test and support the Boxer Combat Reconnaissance Vehicles and training systems," Minister Price continued.
"The work at this facility is terrific news for Queensland workers and defence companies across the country."
Image credit: www.rheinmetall-defence.com