Surprisingly cold winter in Canada and strong cyclone activity in Australia have cut Rio Tinto's iron ore shipments by 8% in the first quarter of 2014, but a substantial 16% increase in production on the same quarter a year ago placed the company back on track to meet its full-year financial objectives.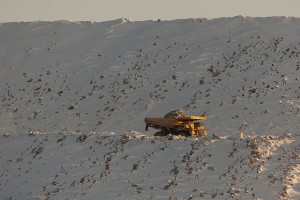 "It appears they were hit a little harder than we expected by the weather, though we don't see any issues in meeting their full-year target," said RBC Capital Markets analyst, Chris Drew.
According to the article on Reuters, Rio is on track to meet its mining ore target at a rate of 290 million tonnes a year and maintain its 2014 production target of 295 million tonnes, which would keep the company ahead of rivals BHP Billiton and Fortescue Metals Group.
With prices recovering from the 12% dip in March, the iron ore has replaced other precious commodities such as gold, coal and silver on the list of top-earning minerals, delivering a hefty profit margin of over $60 a tonne.
Rio Tinto's overall iron ore shipments in the first quarter came in at 66.7 million tonnes.
Despite maintaining good fiscal results, Rio Tinto has often been criticized for being overly reliant on iron ore, which accounts for almost half of the company's 2013 revenue. Rio Tinto Chief Executive Sam Walsh has repeatedly deflected the criticism, saying China will continue to buy all the ore it can mine for years to come.
Rio Tinto owns 59% of Iron ore of Canada (IOC), with Mitsubishi Corp and Labrador Iron Ore Royalty Co holding 12% and 15% of the stakes, respectively.
Last year, Rio put its stake in IOC up for sale but received offers that were way below the mining group's expectations of about $3.5 to $4 billion.