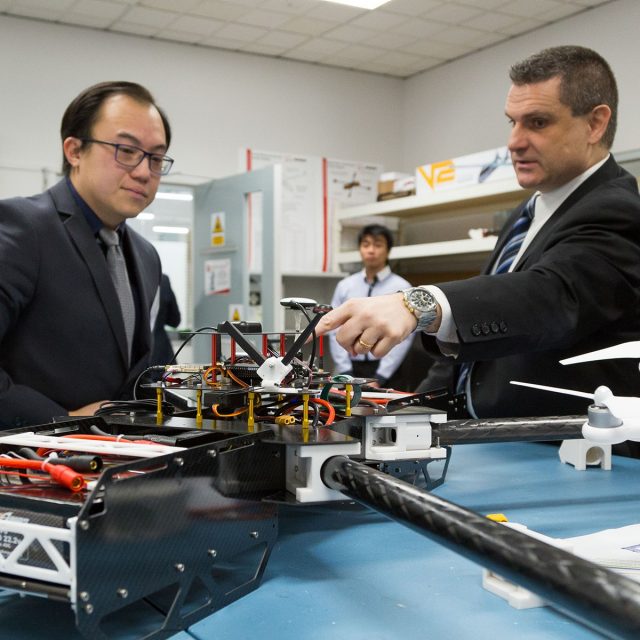 RMIT has partnered with Australia Advanced Aerospace Technologies (AAAT) to establish an incubator and accelerator for the development of unmanned air vehicles (UAVS) for commercial use.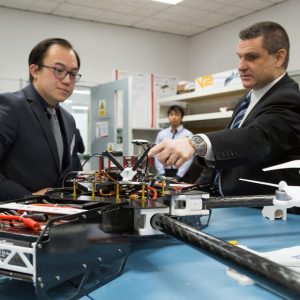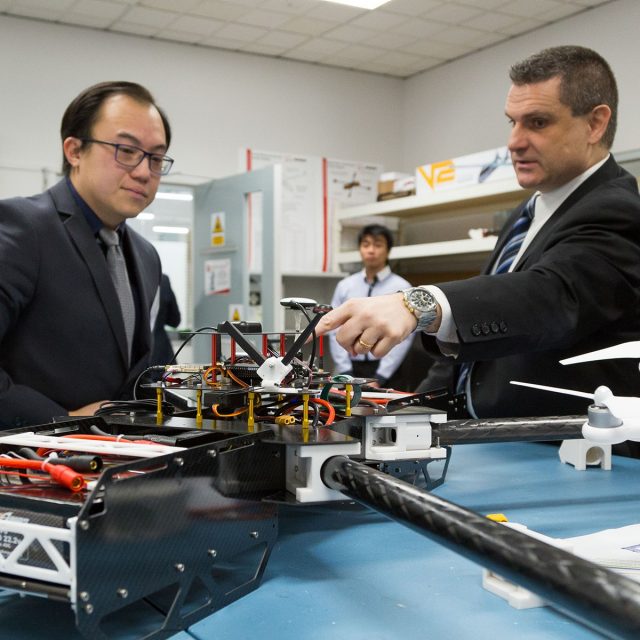 The project was launched at RMIT's Bundoora East campus on Friday, where Professor Peter Coloe – Pro-Vice Chancellor and Vice-President, College of Science, Engineering and Health – welcomed representatives from AAAT, the Chinese consulate and RMIT.
AAAT CEO, Dr Shuai He, who completed a bachelor and PhD in Aerospace at RMIT, had travelled to China shortly after graduating and successfully secured a $2 million capital investment to establish his new company upon his return in Australia.
He said he spent months studying the market and comparing existing products in China to find out what they need.
"We decided to develop two types of aircraft: one with a 25kg pay load classified as heavy-lift rotary-wing platform intended for applications such as agricultural crop spraying, power-line stringing and external pipeline inspection," he said.
"The other UAV is a fixed-wing configuration with an 8-hour endurance deployed for surveillance, reconnaissance or data gathering and communication. Since we formed this amazing team, we have managed to finish the design phase in five months' time and with help from RMIT technicians, we are now able to manufacture the design so that we have real products ready for testing in the lab."
Professor Coloe said the project would prove beneficial for both parties, allowing AAAT to accelerate the development of their drones while at the same time providing undergraduate and research students at RMIT with real-world research and development experience.
"RMIT is extremely pleased that AAAT has chosen the School of Engineering to assist in key research and development work for their drone technology," Mr Coloe said.
"What better group of people could you have than alumni that want to come back to their alma mater to work on their research. We believe the education they gained at RMIT has prepared them for making AAAT a commercially successful, high-tech and innovative company."
He said over 20 students, academic and technical staff are now working with AAAT to ensure the incubator and accelerator is completed on time and on budget.
"With AAAT and RMIT working together in this vibrant research environment – with high-quality expertise, state of art computational design tools and excellent laboratories in composite manufacturing, advanced 3D printing equipment at the Advanced Manufacturing Precinct, aircraft control systems and flight testing – we are confident the project will be a great success," Mr Coloe concluded.
The last few years have seen a significant a significant increase in the use of UAVs as the technology becomes more sophisticated.
Because drones are much cheaper to manufacture than helicopters, the world is experiencing a massive spike in use of UAV's in search and rescue, agriculture, mapping and surveying, security and surveillance, sports and as unmanned cargo systems.