Education Minister Christopher Pyne announced on Friday that RMIT University has been awarded more than $2.36 million in Australian Research Council (ARC) Linkage grants for the development of eight separate projects.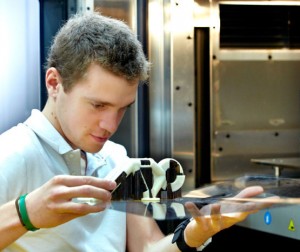 Professor Calum Drummond, Deputy Vice-Chancellor Research and Innovation and Vice-President at RMIT University, said the outcome builds on the University's ongoing success in research partnerships.
"RMIT is renowned for the strength of our national and international industry relationships. Our researchers excel at developing new knowledge and technologies for industry applications."
The Linkage Projects scheme provides funding to Eligible Organisations to support research and development (R&D) projects which are collaborative between higher education researchers and other parts of the national innovation system, which are undertaken to acquire new knowledge, and which involve risk or innovation. 
According to the media release by RMIT, the eight projects supported under the ARC Linkage Grants scheme include:
$326,000 for the development of a newly-discovered low-power nebulisation technology for delivering anti-viral, anti-bacterial and anti-fungal agents to combat anti-microbial resistance in hospitals.


Industry

partner

:

Brandaroma Asia Pacific

.

$360,000 for research addressing the issue of implant failure associated with the growing number of joint replacements performed in Australia. The project will combine multi-scale structural design, alloy development, 3D printing, modelling and tissue engineering to develop bone-like biomimetic titanium implants.


Industry partners

:

Anatomics

and

Xian Sailong Metal Materials

.

$420,000 for the development of an innovative titanium hydride injection moulding process to enable the low-cost fabrication of intricate titanium components while ensuring excellent mechanical properties. The outcomes have the potential to transform the current manufacturing practice of small intricate titanium components for wide industrial applications.


Industry Partners

:

Advanced Metallurgical Solutions

, Chongqing Dien Scientific

Technology Development Company.

$137,979 for a project that builds on a four-year trial of a pilot program designed to end long-term homelessness. The new funding will enable researchers to track participants for

a further two years.


Industry partner:

 

Sacred Heart Mission

.

$280,000 for a cyber-security project that aims to develop a continuous authentication approach based on user behaviour combined with a risk adaptive assessment of the resources being accessed, to resulting in re-authentication requests in the event of a suspected compromise.


Industry partner:

 

Computer Associates

.

$345,385 for research that aims to boost adoption of off-site manufacturing to increase efficiency in Australia's housing industry.

The project aims to develop a novel collaborative practice based implementation model.


Industry partners:

 

Metricon Homes

,

Australand Holdings

,

FMG Engineering

,

Master Builders Association Victoria

.

$296,962 for a project that aims to develop a new 3D weaving technology for fabricating multi-functional fabrics for advanced fibre-reinforced composites, meeting the emerging demands of industry for light-weight high-performance composites.


Industry partner:

 

Fabrics and Composites Science and Technologies

.

$198,000 for research to more accurately measure sound levels caused by wind turbines, to assist studies into the impact of wind farm noise on communities. The project will propose a novel compact microphone array solution to enable the measurement configuration size to be reduced from metres to less than 10 centimetres.


Industry partner:

 

Taiwan Green Engineering Consultants.