Rockwell Automation has announced that its Safety System Design Software is now available in Chinese, Czech, Danish, Dutch, Finnish, French, German, Hungarian, Italian, Japanese, Korean, Polish, Portuguese, Romanian, Spanish and Swedish.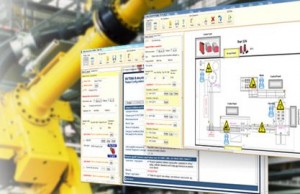 Named one of the top 10 most innovative products at last year's SPS Drives show in Germany, the software was designed to help engineers save time when designing safety systems.
With the language update, engineers that design machinery safety systems can now more easily collaborate across multiple languages.
Available as a free download from the Rockwell Automation website, the software have required users to download and run the Safety Integrity Software Tool for Evaluation of Machine Applications (SISTEMA), which helps evaluate the system in accordance with ISO 13849-1:2008.
SISTEMA is available in a limited number of languages, so the Safety Automation Builder tool's expanded language functionality have allowed engineers to more easily generate SISTEMA reports outside of their local language.
Since its launch in February 2013, the software has been downloaded more than 15,000 times.
"Many manufacturers are using the Safety Automation Builder tool to simplify selection of safety devices and to speed engineering time. Now, they can achieve the same time savings when working across regions and languages," said David Reade, Business Development Consultant for Safety and Sensing at Rockwell Automation.
"We're already seeing this in action. One manufacturer in Italy used the Safety Automation Builder tool when collaborating with a system integrator in Hungary and a machine builder in Germany. The tool automatically translated the original design file into the other languages without changing any of the functional data, cutting engineering time and paperwork."
Rockwell Automation also added new safety functions, which are pre-engineered design documents containing detailed information for many safeguarding methods, including specific functionality, performance level data, and required input, logic and output components.