To boost competitiveness and protect local jobs, Victoria-based Burder Industries — a regional manufacturer of customised tractor and earthmoving equipment — has installed a new 355kWp solar PV system supplied by Yingli Green Energy Australia Pty Ltd (Yingli Solar).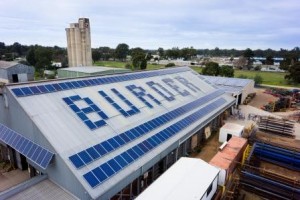 According to the media release, Yingli Solar, the largest solar photovoltaic (PV) module manufacturer, have supplied the solar PV system through its distribution partner, EnviroGroup, a specialist provider of renewable energy products and systems for commercial applications, government clients and residential home owners.
The company was in charge of solar power system design, installation, high voltage connection design and upgrade, 500kVA substation sourcing and installation, grid connection and metering.
The new system is set to generate approximately 467MWh of solar energy per year, providing for 90% of the company's daily energy consumption, while electricity costs are expected to be reduced by over 70% each year.
"While making the switch to solar has been a large capital investment for our business, we see it as a wise investment decision. Turning to solar power will be critical to the long-term success of our business as it will enhance our domestic competitiveness and the longevity of our operations," said Adam Fendyk, General Manager at Burder Industries.
The new system will also reduce Burder Industries' carbon footprint by up to 607 tonnes annually; an equivalent of taking 145 cars off the road.
"Solar power is a vital for energy intensive companies like Burder Industries as it will help to reduce their operating costs and carbon footprint. A quality solar photovoltaic system plays a vital role in ensuring their investment in solar pays off over the expected lifetime of a system and reduces their potential of experiencing bill shocks," said Daman Cole, Managing Director for Yingli Green Energy in Australia, New Zealand and the Pacific.
"Burder Industries can be confident with the complete solution we have installed. We have assembled high quality components and carefully crafted the delivery of this project with Yingli Solar panels. When combined, this will go a long way towards helping Burder Industries reduce their operating costs and it will ensure their business remains competitive over the long-term," said Cameron Munro, CEO at EnviroGroup.