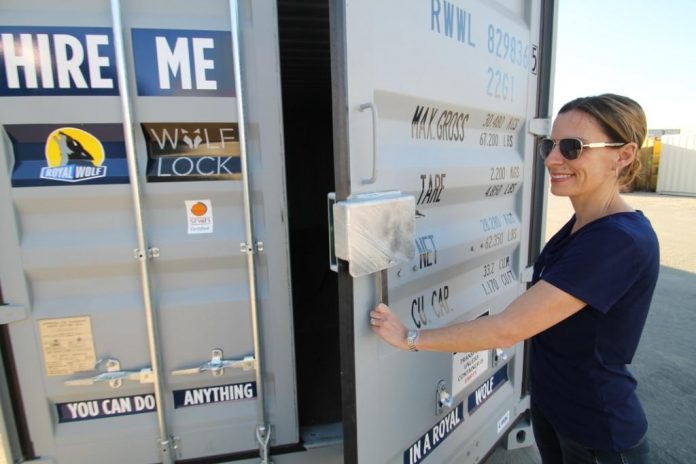 Royal Wolf, Australasia's largest container provider, has expanded the range of its Wolf Lock premium hire containers due to growing demand from across Australia and New Zealand. 
Developed based on feedback from customers, the Wolf Lock premium hire container makes opening container doors easier with a single lever mechanism instead of having to wrestle two heavy handles to open the steel doors.
Royal Wolf CEO Neil Littlewood said almost 500 units have been hired to a wide range of clients across both countries since the official release in September 2018.
"Our initial target was to get 300 Wolf Lock containers out to the market before the end of 2018, so it has performed far better than we expected," Mr Littlewood said, adding that the company will be producing more units in the coming months.
"The level of interest has meant we have expanded the range to include 10 foot and 40-foot containers, which has helped ease some of the demand, and we are currently managing existing stock volumes to meet ongoing orders for both New Zealand and Australia."
He said Australia's largest retailers Kmart and Rebel Sport have already snapped up the containers which make storing product and stock more efficient and easier.
"The easy opening aspect, and an even higher level of safety, makes these containers ideal for customers who need to safely access to product and supplies on a regular basis throughout the day," Mr Littlewood continued.
"These containers are a mini revolution in retail for the simple reason you can open it with one hand while you are carrying product in the other. They're easier, more efficient, and safer to use."
The Wolf Lock container also features a tri-locking system that provides an even higher level of secure, weatherproof storage than a conventional container.
Mr Littlewood said the company is in the process of patenting the Wolf Lock premium hire container which is also being used in agriculture and construction.
"For somewhere like a building site they are ideal because they are safe, secure and weather proof, but also easily accessible which is key given the number of times a day a builder or a tradie goes in and out of the container," he concluded.
Image provided