South Australian Premier Jay Weatherill yesterday launched a landmark plan that outlines how the state will achieve the $10 billion investment in low carbon generation by 2025.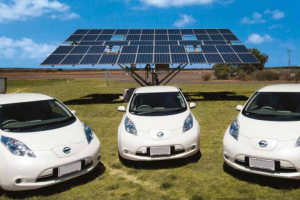 Presenting the Low Carbon Investment Plan ahead of his trip to Paris for the COP21 Climate Conference, Mr Weatherill said it was a "major step" towards establishing Adelaide as the first carbon neutral city in the world.
"We want our State to be a truly international and innovative economy, and we want to engage with the world by supporting new industries and jobs as we move towards a low carbon future," the Premier said.
"By attracting investment, creating opportunity for local industry participation and new jobs, we believe South Australia can maximise the benefits of a low carbon energy transition, and we believe we can establish Adelaide as a showcase for economic development and innovation."
Mineral Resources and Energy Minister Tom Koutsantonis said the Plan targets 50 per cent of electricity production to be generated by renewable energy by 2025.
"We are already well on our way towards achieving this goal. We have worked decisively to set a clear policy and a regulatory environment to inform investment, and we've achieved a $6.6 billion investment in renewable energy thus far, of which 40 per cent is in regional areas," Mr Koutsantonis said.
"We're now leading by example by using our energy procurement to support innovative proposals that will deliver reliable and affordable low carbon electricity to meet up to 100 per cent of the State Government's electricity usage."
Climate Change Minister Ian Hunter said the upcoming climate change conference in Paris represents an "unparalleled opportunity" to invite investments in SA's emerging renewable energy technology that will drive the low-carbon economy.
"An agreement reached in Paris will unlock vast amounts of annual investment in the renewable energy sector, on top of the more than quarter of a trillion dollars invested globally in the past year alone," Mr Hunter said.
"This plan is a part of our Government's work to ensure that we attract a substantial proportion of that investment, to create jobs in the low carbon economy. South Australia has shown the world that it is possible to reduce carbon emissions and grow the economy."