The SA State Government has delivered on its election promise to foster innovation and job creation in South Australia with a $400,000 investment in industry-led skills programs delivered by Majoran, the-city based co-working tech community.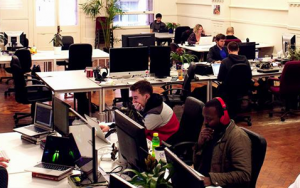 Minister for Science and Information Economy Gail Gago said the funding would help aspiring entrepreneurs and creative professionals gain greater access to mentoring and industry connections.
"South Australia's entrepreneur community continues to grow thanks to businesses like Majoran, which support local entrepreneurs and start-ups to collaborate and share ideas. This funding commitment will see Majoran deliver a range of exciting initiatives and events, kicking off with HackFest on 18 -19 October," Minister Gago said.
"It will support the Mobile Enterprise Growth Alliance (MEGA), which provides entrepreneurs and start-ups with access to a network of mentors offering strategic advice and industry perspective.  The funding will also continue the successful SouthStart conference, which is being held in early February 2015 and is expected to attract more than 50 exhibitors and 600 delegates from across the country."
Majoran- which was established in 2012 by Michael Reid, a chartered accountant, and Chhai Thach, a software engineer, is Adelaide's only co-working community, boasting 40 members across 20 businesses that employ the equivalent of 38 full-time employees.
Mr Reid, who is the Managing Director of Majoran, says the new funding will ensure South Australia continues to provide ample opportunities for young entrepreneurs and businesses to grow and develop.
"The way work is done nowadays has changed. There's nothing stopping our members from jumping on a plane tomorrow and doing what they're doing somewhere else. Majoran is passionate about providing the right tools, experts and connections to these people so that they can take their business to the world and succeed. We have members doing work for teams interstate – including some of the largest companies in Australia – and across the globe. This funding will help more of this happen," he said.
"Adelaide also has the potential to attract aspiring tech entrepreneurs while building their product and validating the market assumptions.  We have one of the most liveable cities in the world and by comparison it's relatively cheap. That's a compelling offer and we should make the most of. Events like SouthStart are aimed at not only attracting more of Adelaide's talent to get together but also to showcase this natural advantage we have."
Minister Gago said the State's future prosperity relies on nurturing a culture of innovation.
"With resources like the AdelaideFree WiFi network and the recently announced Internet of Things Innovation Hub, Adelaide provides the perfect test bed for new ideas and ventures," said Ms Gago.