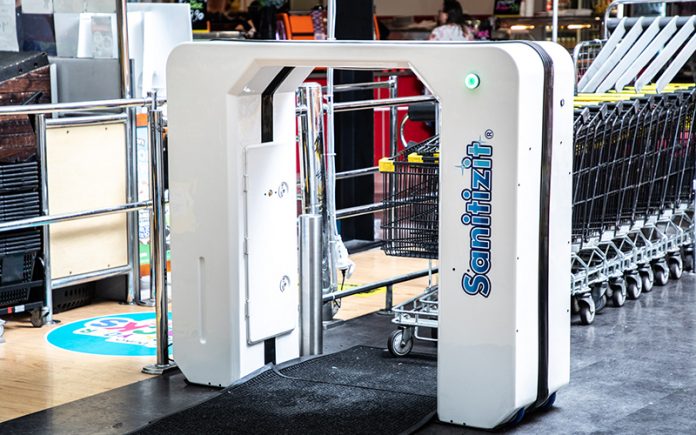 South Australian company SAGE Automation has announced that it will be manufacturing the US-developed 'Sanitizit system' for use across Australia and New Zealand.
The Sanitizit product, which has been developed in the US to sanitise shopping trolleys in retail, medical and airport environments, works by providing a measured dose of santising solution, as a mist blanket, that covers the entire trolley as it is passed through the unit.
In addition to providing operational efficiency for the retailer by replacing the manual process of wiping the trollies down by hand with a touchless system, the low-voltage Sanitizit product uses very little power, reduces waste by eliminating wipes being put into landfill and sanitises the whole trolley, not just the handle.
SAGE Automation – which has already started rolling out the new system to Drakes supermarkets across SA – has partnered with the developer of the Sanitizit product to manufacture, supply and support the units in the Australian and New Zealand markets.
"SAGE will be the exclusive manufacturer of the Sanitizit product in Australia from our advanced manufacturing centre at Tonsley in South Australia and will provide ongoing support nationally via our 14 state and regional office locations," said Adrian Fahey, MD & CEO SAGE Group.
"We will be looking to build on the product, introducing new locally developed smarts into the system."
SA Premier Steven Marshall said the success of SAGE Automation highlighted the value of the Tonsley Innovation District as a centre for manufacturing innovation.
"SAGE Automations will manufacture and distribute the innovative sanitising machines at Tonsley Park Innovation District – another outstanding example of a South Australian business quickly adapting to the economic reality of a COVID-19 world," Mr Marshall said.
"SAGE is a great example of how agile local companies are transforming South Australia's manufacturing sector to adapt to emerging market opportunities."
Image credit: https://www.sageautomation.com/sanitizit