German multinational software corporation SAP SE has teamed up with 3D printing giant Stratasys to establish a global network of 3D printing co-innovation labs to educate and enable customers, employees and partners on the adoption of additive manufacturing as an integral part of the manufacturing production line.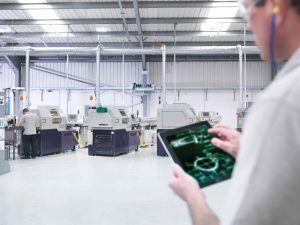 SAP, which is in the process of rolling out Digital manufacturing and co-innovation sites across France, South Africa, German and in the USA, said the initiative builds on the company's more than 40 years of experience across the industry.
SAP's Senior Vice President, Mr Hans Thalbauer, said the SAP® Distributed Manufacturing application is intended to make 3D printing a valuable part of digital manufacturing by helping co-innovation customers and partners to transform the extended supply chain.
He said services related to SAP Distributed Manufacturing connect 3D printing to familiar business processes to help manufacturers achieve production and logistical cost savings and reduce complex supply chain issues.
"Manufacturers and their suppliers and production partners increasingly recognise the potential of 3D printing in smart digital supply chain strategies that are optimised with unprecedented speed and efficiency," Mr Thalbauer added.
"SAP is fast building a co-innovation network with leaders like Stratasys that share our vision for making connected, real-time distributed manufacturing a reality for our customers."
Mr Pat Carey, Stratasys Senior Vice President, Sales, North America, said the new 3D printing co-innovation facilities will provide an interactive learning and design thinking environment, enabling customers, partners and employees to further develop and test active business cases and applications of the latest distributed manufacturing technology.
"SAP and Stratasys share a common vision of the tremendous value distributed manufacturing brings to customers' supply chains," Mr Carey added.
"Harnessing this potential fully requires that 3D printing be seamlessly integrated with enterprise workflows for certification, planning, procurement and production. By participating in this initiative, it's now possible to combine SAP's leadership in these areas with our premier 3D printing solutions and services ecosystem. We look forward to further driving 3D printing adoption with these co-innovation customers."