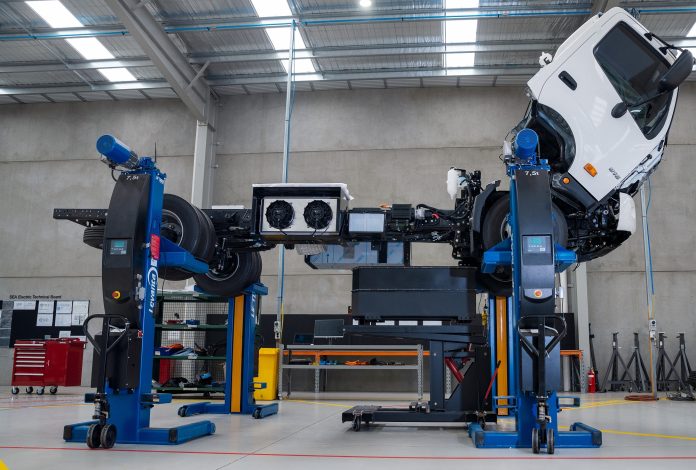 Media Release by SEA Electric
Australian e-Mobility innovator SEA Electric supports the new report by the Australia Institute's Carmichael Centre, Rebuilding Vehicle Manufacturing in Australia: Industrial Opportunities in an Electrified Future, which focuses on the possibilities for the local EV manufacturing sector.
Founded in Australia in 2012, SEA Electric has been at the forefront of commercial vehicle battery-electric technology since the release of its proprietary zero-emissions technology in 2017.
In 2021, the company stepped up by launching the world's first true range of all-new electric trucks, which are manufactured at the company's base in Melbourne.
The marketplace has warmly received the SEA 300 EV and SEA 500 EV models, with the platform winning the prestigious Heavy Vehicle Industry Australia (HVIA) Product Innovation Award for 2021.
Adding to the credentials of the homegrown SEA-Drive® power system technology, it is now deployed on five continents, attracting significant international orders.
The report, as prepared by Dr Mark Dean, offers multiple recommendations, including establishing an EV Manufacturing Industry Commission, tax incentives for key mineral extraction companies and the local manufacturing of EV batteries, long-term training plans, incentives for global manufacturers, and procurement laws for the rapid electrification of government vehicle fleets.
"SEA Electric commends the work of Dr Dean and the Carmichael Centre in preparing this report, and the light it shines on the potential for the EV manufacturing space here in Australia," said Bill Gillespie, SEA Electric President, Asia Pacific Region.
"Being pioneers in the zero-emissions logistics sector, we understand the outstanding possibilities that are available, with the opportunity for Australia to be a leader in the field internationally.
"Since the closure of the Australian car manufacturing industry, there remains a sophisticated skills base locally, as evidenced in our local design and engineering team.
"The strong local uptake of electric cars in 2021 points to the possibilities, but in commercial vehicles, companies need to see a pathway from governments to be assured that they are investing in a sustainable emission technology for their fleets.
"With around 20,000 diesel light and medium-duty trucks currently sold annually, Australia's net-zero emissions goal by 2050 will not be met unless all governments take action to support the purchase of electric trucks.
"We back a framework from the various governments to incentive Australian companies like SEA Electric to invest in what we know is a bright future."
Covering applications from 4.5 to 22.5 tonnes, the SEA Electric range is adaptable to a massive array of final applications, all with market-leading range and performance characteristics.
For further details on the entire SEA Electric range of Australian made vehicles, plus the brand's nationwide dealer network, visit www.sea-electric.com/en_au.