Renowned designer and manufacturer of special purpose vehicles, SEM Fire and Rescue, has won a contract to build 20 new fire trucks for the Country Fire Authority (CFA).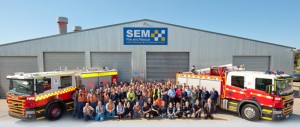 The Ballarat-based manufacturer has more than 50 years of experience in the market, having originated as the manufacturing division of one of Australia's largest fire brigades, the Victorian Country Fire Authority.
Featuring state-of-the-art technology, the new trucks will boost CFA's firefighting capability and improve the safety of crews. The trucks will be allocated to brigades across the state by the CFA.
According to the media release by the Premier of Victoria, the Andrews Labor Government committed $33.5 million to deliver 70 CFA trucks.
"This is a great result for local manufacturing in the Ballarat area and shows we are investing in life-saving equipment for our firefighters who work so hard to protect their communities. This important investment will improve the safety of our community and the CFA crews who put their lives at risk help others during emergencies," said Minister for Emergency Services, Jane Garrett.
"These new medium tankers will provide our CFA crews with the state-of-the-art equipment they need to keep our community safe .Built in Ballarat, Labor's investment delivers a much needed shot in the arm for our local manufacturing industry," added Member for Buninyong, Geoff Howard.