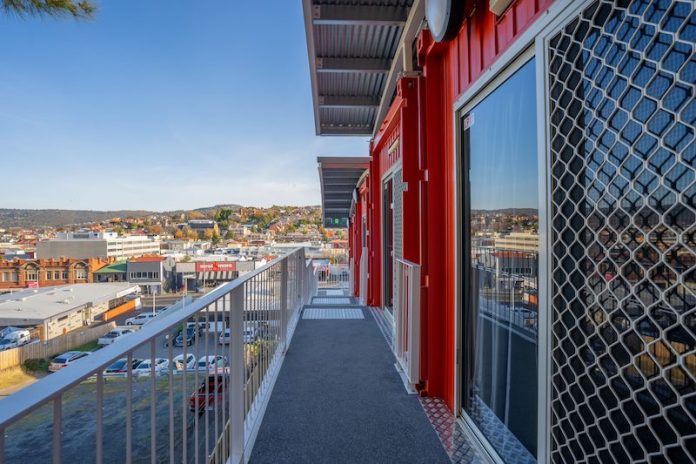 Media Release
On first inspection it is not a product that appears to align well with business strategies requiring diversification or innovation.
The ubiquitous, ribbed-steel shipping container that you see stacked in its thousands at ports across the country, is all about no-nonsense functionality. Standard containers traditionally come in two sizes – 20-foot and 40-foot – and a preferred colour of muddy-red.
But Royal Wolf, Australia's largest supplier of shipping containers for hire, sale and specialised modification in the domestic market, has shown that even the most rigid of products can be re-imagined when a company needs to adapt to the market, and when a society comes calling for solutions.
In recent years, Royal Wolf's containers have been deployed for use as university student accommodation, a food market village and, most recently, as crisis accommodation for the homeless in Tasmania.
CEO Neil Littlewood says the "reinvention" of the shipping container has been vital to Royal Wolf's success over its 25-year history.
The company's listing on the ASX in 2011 was a capital expansion move to meet the sudden demand from the then booming mining sector for camp accommodation. But when that bubble burst, Royal Wolf took a hit.
"Yes we did, as did many Australian companies associated with the mining sector," Mr Littlewood says. "So we came to a rethink of our business. To diversify we turned down the dial on camp accommodation, but we increased the dial on worker accommodation at civil construction sites. That's where we have built a niche.
"And as a company it helped us learn about ourselves and what we could do.
"Most people have this view that it is just this steel container, but what you can do inside that is quite interesting. People all over the globe have come up with some sensational solutions."
During the COVID-19 pandemic, Royal Wolf was instrumental in providing emergency response testing stations, and, in Geelong, the modification of a container into a visitors' pod at an aged care facility.
"Our design team has about 15 different configurations (for pandemic response buildings)," Mr Littlewood says.
The company's largest long-term solution project has been the 85-container build last year for 180 live-in students at the University of Tasmania's Sandy Bay campus. As a result of that project, the State Government commissioned Royal Wolf to supply 18 single-person pods for Hobart's Bethlehem House, a homeless accommodation service for men, and 10 larger shelters for the Hobart Women's Shelter.
Mr Littlewood says the company and the local team in Hobart found a sense of pride in being able to be part of the solution.
"To me it is about understanding what governments, councils and clients are looking for; analysing that; providing an innovative and individual solution for them; and then delivering on that in a timely manner. That is our core function," he says.
For more information on how Royal Wolf is helping to put a roof over the head of those who need it most, head here.