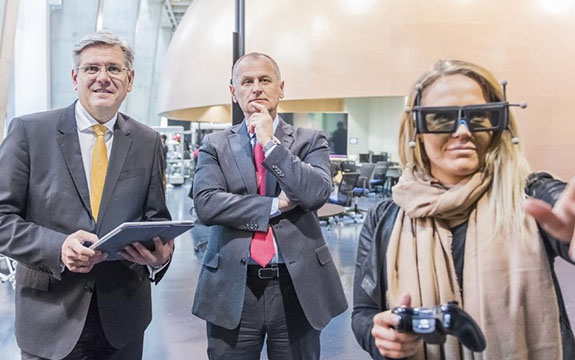 Engineering giant Siemens have announced a record $135 million industrial software grant for the Swinburne University of Technology to create Australia's first fully immersed Industry 4.0 facility.
The grant will be used to digitalise Swinburne's Factory of the Future, giving students and researchers access to the same apparatus being used by leading companies on advanced projects in the highly-competitive digital manufacturing sphere.
?Deputy Vice-Chancellor (Research and Development), Professor Aleksandar Subic said the grant provides a suite of advanced product lifecycle management (PLM) software designed to integrate data, processes, business systems and people in an extended enterprise, as well as a  new generation cloud-based Internet of Things (IoT) platform called MindSphere.
"We're immersed in the fourth industrial revolution and we want to make sure that students and researchers are equipped with the required advanced capabilities and tools to help transform Australian industry and access global value chains," Professor Subic said.
"The international competition will be fierce in the manufacturing domain, which is why this development is so timely and critical."
Siemens Australia Chairman and CEO, Jeff Connolly, said the grant would support Victoria and Australia by preparing students to participate fully in the emerging global innovation economy.
"This is about jobs of the future today. I'm proud to be standing here today, side by side with Swinburne University of Technology, announcing the largest ever industrial software grant in Australia," Mr Connolly said.
"Our country's future relies on companies working with key educational and research institutions to get our workforce ready for the fourth industrial revolution."
Industry 4.0, commonly known as the fourth industrial revolution, refers to the next stage of modern manufacturing – a paradigm shift towards smart factories that merge cyber systems with physical systems.
Swinburne's Manufacturing Futures Research Institute is the country's first research institute dedicated to Industry 4.0.
Image credit: www.swinburne.edu.au