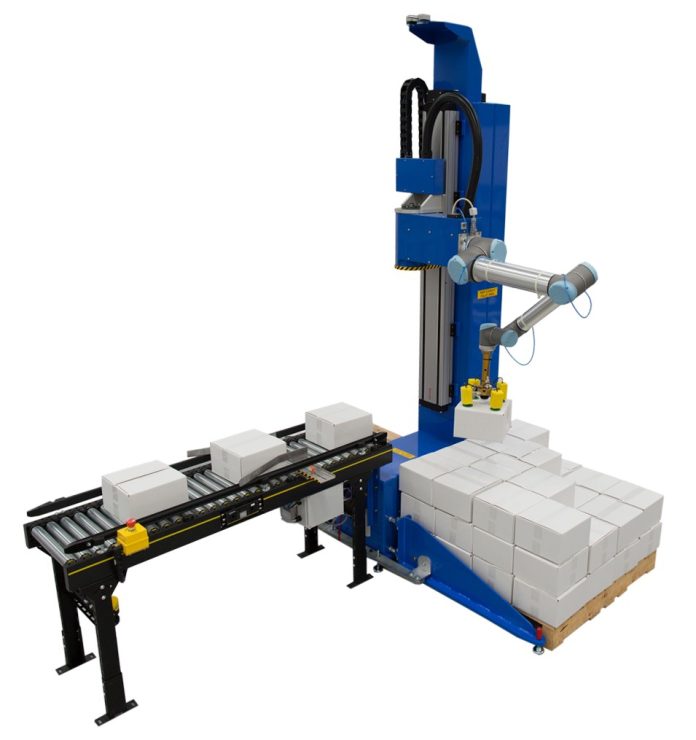 Universal Robots' Certified System Integrator, Andrew Donald Design Engineering (ADDE), has developed a standardised palletising solution using Universal Robots' UR10 collaborative robot.
Dubbed the Zero Footprint Palletiser (ZFP), the new palletising system eliminates the need for loading a carton onto a pallet manually – a task widely considered to be one of the most physically demanding and back injury prone jobs on the production line.
To create the ZFP, ADDE started with a UR10 robot – which can work without safety caging or barriers (subject to a risk assessment) – and then added the hardware and software needed to achieve an affordable, minimal footprint and easy-to-deploy solution that can reach an Australian standard pallet.
"The intuitive nature of the UR10 provided a great starting point for us to build a flexible, easily programmable solution that takes up minimal factory floor space," said Barry Hendy, Managing Director at ADDE.
"The ZFP enables workers to continue to perform production line tasks in collaboration with the robot, while relieving factory staff from the risks of the repetitive task of stacking pallets."
In addition to minimising the occupational health and safety (OH&S) issues for both manufacturers and their employees, ADDE's new palletising solution is also tipped to drastically reduce expenses for workers compensation claims in Australia caused by body stressing, manual handling and musculoskeletal disorders (MSDs).
"With the ZFP, the OH&S issues associated with manual handling can be avoided as workers can be freed up to work on less laborious tasks," said Shermine Gotfredsen, General Manager, Universal Robots, Southeast Asia & Oceania, Universal Robots.
"However the collaborative nature of Universal Robots' UR10 robotic arm also means that staff are enabled to work in conjunction with robots along the production line, unlike with traditional industrial machines where safety barriers often prevent employees from working close to machinery."
Boronia-based Baxter Laboratories, a Therapeutic Goods Administration (TGA) licensed manufacturer, has become the first customer to take advantage of ADDE's innovative ZFP solution.
The company uses a collaborative case packing and palletising system developed by ADDE, which uses a Universal Robots' UR5 robotic arm to assist packing 12 Aerogard insect repellent spray bottles into a semi-automatic carton assembler.
The boxes are then packed onto a pallet using an ADDE's ZFP, which integrates a UR10 robotic arm.
Tilley, Operations Manager at Baxter Laboratories, said the company plans to implement four more ADDE designed palletisers which are already on order and soon to be installed.
"The whole process has become safer and more efficient. We now have one employee who erects the box, waits for it to be filled by the UR5, then pushes the box to the tape sealer before it is then passed along to the ZFP, which picks up the finished box and places it onto a pallet for distribution. The other employees formerly performing the palletising and packing have been redirected to safer, more value adding tasks that are less monotonous," Mr Tilley added.
"One of our most monotonous and difficult jobs is actually stacking pallets so we looked at the market and couldn't find anything in the traditional space without big robots and big cages – we needed something safe and space efficient. Having the minimal factory floor footprint that we required, we selected and thoroughly risk assessed the ZFP before deciding it could be safely operated without guarding."
Image credit: www.adde.com.au