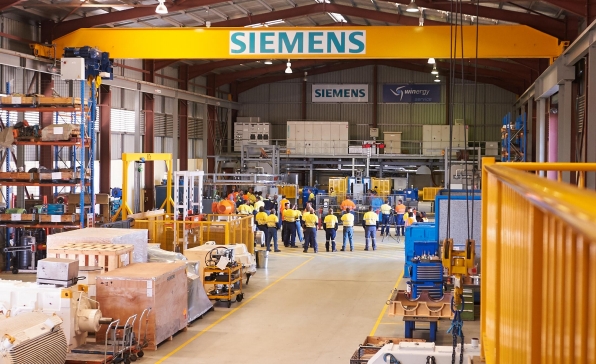 Siemens has announced a $5 million investment into the state-of-the-art Rockhampton Service Centre- one of only a few Original Equipment Manufacturers' (OEM) workshops located in the vicinity of the Bowen, Galilee and Surat Basins in Queensland.
The Rockhampton Service Centre is one of Siemens' three service centres in Australia with the others located in Tonsley (South Australia) and Perth (Western Australia).
According to the official announcement, Siemens has invested over $30 million in hi-tech service centres across the country in the past three years alone.
Thanks to the investment, the Siemens Service Centre in Rockhampton will now be home to the largest and most advanced test rig for mining, wind power and other core industries in Australia capable of performing load tests on industrial gearboxes such as those used in the mining vertical up to 500KW.
"I'd like to thank Siemens for continuing to invest in Rockhampton and the region. This announcement is important for the local economy. By having a leading global technology company putting the largest gearbox test rig into this site means a lot for the mining industry and future growth of the renewable energy industry. Ultimately Siemens technology is supporting the competitiveness of the whole region," said Margaret Strelow, the Mayor of Rockhampton.
"More than ever, our core industries now need their equipment performing at peak efficiency and without the threat of outages. Siemens' investment into the new test rig for industrial and wind turbine gearboxes reiterates our commitment to bringing in the latest global technology to our customers – technology that can help the state of Queensland continue being a global resources powerhouse. We are leveraging our strength in mining and investing in technologies that could support a broad range of industries – especially newer ones such as wind," added Michael Freyny, head of Siemens Digital Factory and Process Industries for Siemens Australia and New Zealand.
Image credit: corporate.siemens.com.au