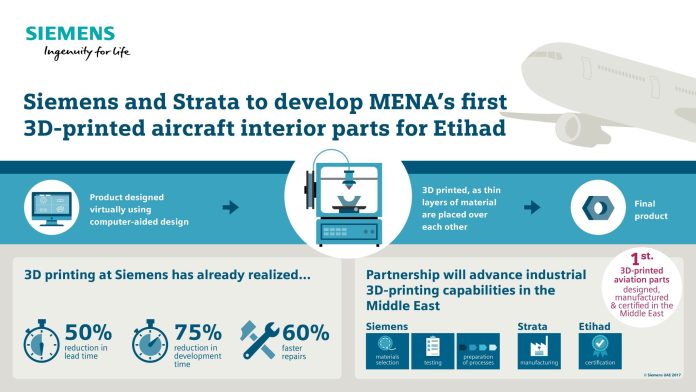 Siemens AG and Strata Manufacturing PJSC have teamed up to work on the development of the first 3D printing solutions for aircraft cabin interior products for Etihad, the UAE's national carrier.
The partnership will see Siemens leverage its global expertise in digitalisation and 3D printing to consult on the selection of materials, testing and the preparation of processes, whereas Strata will manufacture the parts in its factory.
Jeff Wilkinson, Etihad Airways Engineering CEO, said the company's design team will work to certify the parts.
"The biggest challenge for the use of flying 3D-printed parts in aviation is certification and we are ready to tackle it and make it a reality," Mr Wilkinson stated.
"Etihad Airways Engineering will be using its expertise and major design certification approval (Design Organization Approval – Part 21J) to design and certify the first 3D-printed part for aircraft cabin in the UAE. We will be partnering with the certification authority and with Strata to make certified 3D printing for aviation in the UAE a reality."
Assem Khalaili, Executive Vice President, Industry Customer Services, at Siemens Middle East, said Siemens and Strata will leverage the success of the project to investigate the development of a strategic three-year joint roadmap for the further industrialisation of additive manufacturing in the UAE, the wider Middle East and North Africa.
He said the roadmap will include training and the development of UAE citizens with the required skills for further deployment of 3D printing technology.
"We see great opportunities for 3D printing as a disruptive force in manufacturing, and expect it to play a key role in a globally competitive, increasingly digitalized industrial landscape in the Middle East," Mr Khalaili continued.
"This is highly relevant technology for the region's development of an increasingly digitalised and diversified economic landscape, across a wide range of sectors. We are proud to be working with Strata and Etihad to advance 3D printing and strengthen local manufacturing here in the region."
Badr Al-Olama, CEO of Strata, said the company will explore 3D printing technology for a range of applications to aid its manufacturing processes in aerostructures in areas such as tooling, fixtures and consumables using metallic and non-metallic materials.
"Strata is proud to facilitate the application of 3D printing technology in the aerospace field in the UAE for our national carrier Etihad, through our partnership with Siemens. Our goal is to deploy this technology on practical applications that will allow development of local knowledge building in various aspects of this technology that will lead to future innovations that can benefit the broader aerospace industry," Mr Al-Olama added.
"The partnership echoes one of the key objectives of GMIS which is to harness the potential of collaboration in solving global problems and making manufacturing accessible to everyone everywhere."