Once again, we are amazed at the way 3D printing is changing the world. From tiny trinkets to machine and automobile parts, 3D printing apparently knows no limits.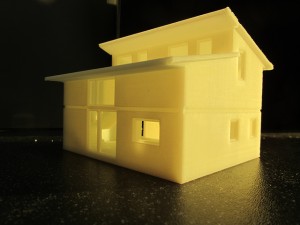 BetAbram, a Slovenia-based company has designed and constructed three different types of BetAbram 3D printers that are capable of printing entire houses.
According to the article on 3DPrint.com, the company plans on releasing their first 3D house printer, the BetAbram P3 this July or August, priced at about €12,000. The BetAbram P3 is the smallest of the three 3D house printers.
The other two — the larger P2 and P1 — are set to be released in September and available for purchase for approximately €20,000 and €32,000 respectively.
"We already constructed all three types [of printers], but we are still developing software for [the] BetAbram P2 and P1 printers," the company told 3DPrint.com.
"These printers are designed to build houses. We've printed a lot of small objects, miniature houses, sculptures, but we haven't built a real house yet because the P2 and P1 printer software is still under development. It will be ready in September 2014 along with P2 and P1 printers."
Using a special rail system, the 3D printers can construct tall buildings, so the build volume is not dependent on the Z axis.
"As for the X and Y axes, the P3 can print buildings measuring 4 meters X 3 meters (12 square meters), the P2 is capable of 12 meters x 6 meters (72 square meters), and the largest, P3 is capable of 16 meters x 9 meters (144 square meters)."
These 3D printers just might revolutionise the way homes are built and improve the quality of life in third world countries where appropriate and affordable housing is one of the major challenges the people face.