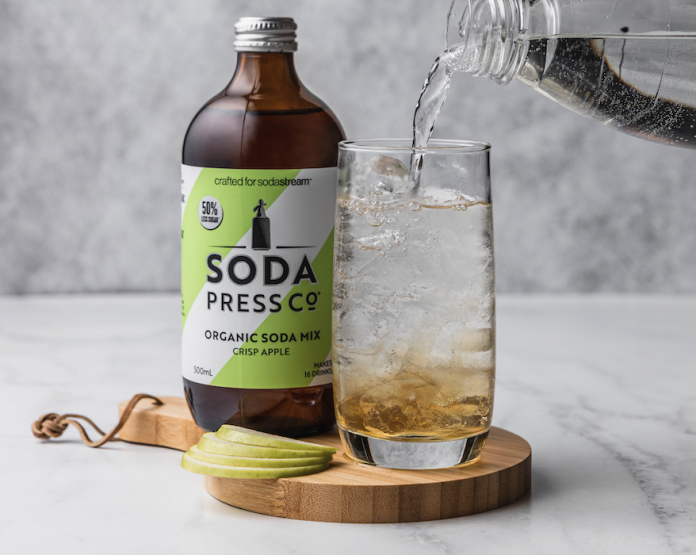 Media Release by Soda Press Co
Soda Press Co, SodaStream's certified organic soda mix brand took the International SIP Awards by storm this May, bringing home 8 top awards for 5 new flavours in the syrups/cordial tasting category.
Among the winning flavours was the brand's Crisp Apple, which took home the Best in Class award, while the Lemon, Lime & Bitters was awarded Double Gold. And in a world first, Soda Press Co's Zesty Ginger Kombucha won the Innovation and Consumer Choice award.
Soda Press Co Founder and CEO Cam Romeril said, "We here at Soda Press Co are extremely proud to have pulled in this medal haul at the prestigious International SIP Awards for 2022. We are extremely passionate about delivering delicious, organic and sustainable soda mixes and to receive validation from awards judged by consumers is extremely humbling."
Soda Press Co, an Australian born business that sources premium, organic fruits and ingredients, applying the best of old and new innovations to craft a range of organic soda mixes and innovative kombucha concentrates. In 2018, SodaStream acquired a stake in Soda Press Co as a venture partnership, taking the brand to 15 major international markets including Europe and North America.
SodaStream Australia Managing Director Laura Wilson said, "We are so proud of our Soda Press Co family, and thrilled to see the brand's incredible flavours acknowledged on a global stage at the prestigious International SIP Awards.
"At SodaStream, we are constantly looking for ways to create the ultimate experience for our consumers – whether it be expanding our health-focused product offerings or creating new and exciting flavours for people to customise their sparkling water drinks. Our work with Soda Press Co allows us to do this and we're looking forward to continuing to build on this success in the future."
For more information, visit sodapressco.com and sodastream.com.au.
Image Supplied: sodapressco.com