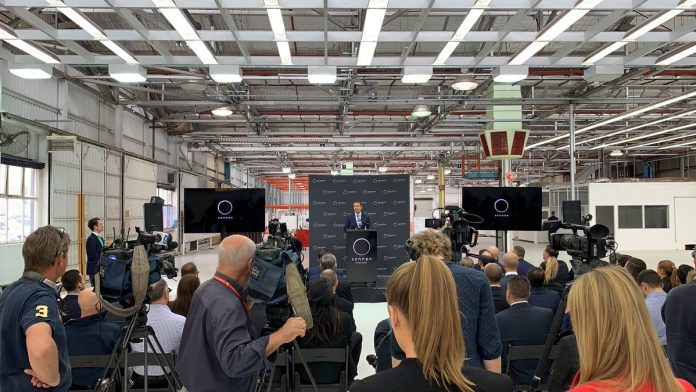 German energy storage firm sonnen has begun assembling its cutting-edge home battery technology at the former GM Holden site at Elizabeth, in Adelaide's north.
Premier Steven Marshall welcomed the announcement, saying the South Australian Government's Home Battery Scheme had been pivotal to securing sonnen's investment in the state.
"Having sonnen locate its manufacturing centre in Adelaide for the production of home batteries for Australia, Asia and the South Pacific is a significant step in the revitalisation of South Australia's industrial base," the Premier continued.
"The assembly and manufacture of 50,000 energy storage systems in Adelaide over the next five years will create around 430 manufacturing and installation jobs in the state and locates South Australia at the centre of this developing industry."
"The State Liberal Government's $100 million investment in home battery storage will deliver cheaper, more reliable electricity for South Australians and drive investment and job opportunities in the manufacture and installation of home batteries."
Minister for Energy and Mining Dan van Holst Pellekaan said the Government's pollicy of offering a priority period for battery manufacturers establishing production facilities in SA is yielding results.
"The State Liberal Government is delighted that sonnen has made Adelaide the centre of its regional operations and the jobs that will deliver for South Australians," the Minister added.
"Delivering cheaper, more reliable power for South Australians is the principal reason the Marshall Government established its home battery scheme but the investment and jobs secured by our priority deal with sonnen is a massive bonus."
He said the scheme will provide some 40,000 South Australian households with access to grants of up to $6,000 and low interest loans to pay for the battery and installation costs.
"The batteries that sonnen is manufacturing at its Adelaide facility will have a significant role to play in the smooth transition of the South Australia energy system to renewable energy," Mr van Holst Pellekaan continued.
"The Marshall Government's $100 million home battery storage scheme, the CEFC's $100 million low interest loan facility and sonnen's Adelaide's manufacturing operation confirms that South Australia is a world leader in the utilisation of solar technology."
"The Marshall Government's Home Battery Scheme will help householders get the most out of their rooftop solar PV, cut energy costs for all South Australians and reduce carbon emissions."