Chris Harms, head of

the not-for-profit All Australian company, will send Prince George the first handmade Aussie Rules football as a present when his royal parents William and Kate arrive on their visit to Adelaide on 23 April.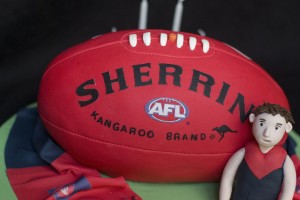 According to the article on the Daily Telegraph, the production of the hand painted, embroidered, screen printed football for Prince George had been overseen by fourth-generation football-making expert Syd Sherrin.
"I came up with the idea when I saw Prince George in the paper and thought let's make a footy for him," Mr Harms said.
"I mentioned it in a meeting with the Premier Jay Weatherill and he smiled and said it was a brilliant idea."
Mr Harms said the company plans its football to be used in the AFL Grand Final in 2020.
"The Prince has a bit of go in him, so AFL should suit him. Hopefully he can come back in 2020 when we plan for our balls to be used in the AFL grand final."
Harms' sports manufacturing base, which employs predominantly indigenous people in Adelaide's north, is in the final stages of agreeing a $6 million federal, state and private partnership that also has the backing of high-profile figures including Port Adelaide's 2004 premiership coach, Mark Williams.
"In the ideal world our state and federal funding will be announced next week," Mr Harms said.