Senior Government members have raised their concerns regarding the way the economic rationalists are handling the situation with struggling SPC Ardmona and their stubborn refusal to support taxpayer-funded assistance for the Victorian fruit cannery.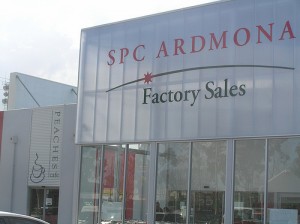 The Federal Government stands divided over the issue, with Treasurer Joe Hockey leading the group opposed to industry assistance.
According to the article on the North Queensland Register, rising tensions within the Government have prompted cabinet members to set up a meeting on Thursday to attempt to iron out their differences and come up with a solution.
It is understood that Industry Minister Ian Macfarlane remains firm on his stance that SPC Ardmona should receive a one-off assistance package because of the impact of its closure on the Goulburn Valley.
SPC Ardmona demanded a 25$ million assistance package from both the Federal Government and the Victorian State Government. The Abbott Government has failed to produce decision on the matter over the Christmas break, and is still divided on the subject as it was a month ago.
Mr Hockey's firm stance that the Government should refuse aiding "lazy" companies who will later use the funds to pay out dividends or feed higher wage claims have caused unrest within the Coalition's ranks. While some of them are on the opinion that $25 million is a relatively small sum for a Federal Government, those who oppose industry assistance are arguing against setting a precedent for other ­struggling businesses.
The division within the Government began to develop last year when General Motors Holden decided to pull the plug on its manufacturing operations in Australia amid clear signals for the Government that there would be no more industry support.
The rifts in the Government are also evident on the issue of helping Qantas and possibly Toyota.
It is unclear whether the Government will make a final decision about SPC Ardmona this week, but Prime Minister Tony Abbott is pressed against the wall on this one.
The Government is nervously awaiting the outcome of a court case in which Toyota is challenging the unions in an attempt to cut the cost of its operations in Australia.
The Government fears that Toyota will follow Holden footsteps if it loses the case, which would be catastrophic for the country's economy and cost 45,000 jobs. The situation with Qantas is also in a status quo, with the Cabinet expected to make a decision in early to mid-February.