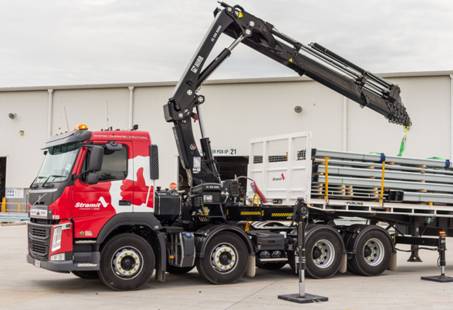 Stramit, a leading Australian manufacturer of steel building products, has unveiled its innovative Crane to Roof Solution, a specially made roofing delivery truck and mounted crane in one.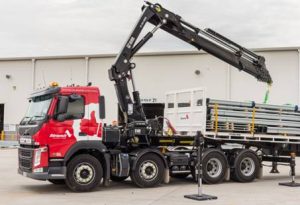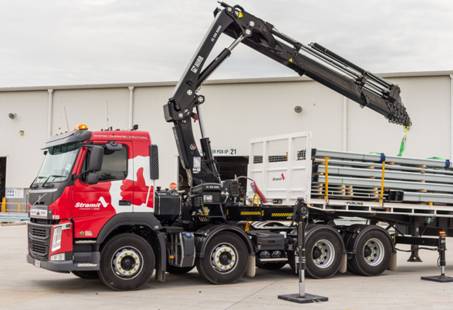 The HIAB XS 288 E8 HiDuo crane mounted on a Volvo FM8x4 with a 13.5m trailer, custom built for Stramit, is a cost-effective convenient and fast vehicle perfectly suited for work on mid-tier roofing applications.
Thanks to its compact and efficient design, the vehicle can get close to the building site, eliminating the need for a separate crane to be set-up on site.
"With the product arriving at the same time as the crane there's no need to coordinate delivery times, thus saving on handling the product, and in turn reducing possible product damage," it says in Stramit's unit description.
This unique vehicle – which features stabiliser legs at the rear and on each side – can reach a height of 23 metres, lift a maximum sheet length of 18 metres and a maximum load of 2 tonnes.
"Unlike conventional slew or AT cranes – this clever design aspect makes the unit suitable for nearly all worksites under five degrees slope. Additionally, set up times are significantly reduced with the stabiliser legs being fully engaged within five minutes," reads the description.
"Once in position, the unit is ready to lift the Stramit roofing product within 15-20 minutes."
The Stramit Crane to Roof unit is not only an economical option for mid-tier building projects, but also a safe and reliable solution with fully trained crane operators using wireless technology to best position product into the desired location.
Additionally, the wireless technology provides the option of a combined Driver and Dogman package allowing tasks to be completed faster and at a lower cost.
Crane to Roof unit is available within a 100km radius of Stramit's metro locations in Brisbane, Sydney and Melbourne. For additional information, visit www.stramit.com.au.