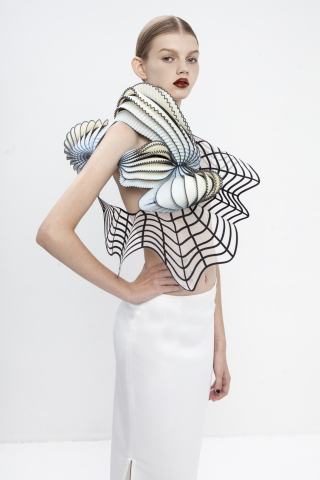 Stratasys announced that two of its 3D printed pieces, which are incorporated into dresses by designer Noa Raviv, are featured in "Manus x Machina: Fashion in an Age of Technology," a new exhibition that opened last week at The Metropolitan Museum of Art (MET) in New York.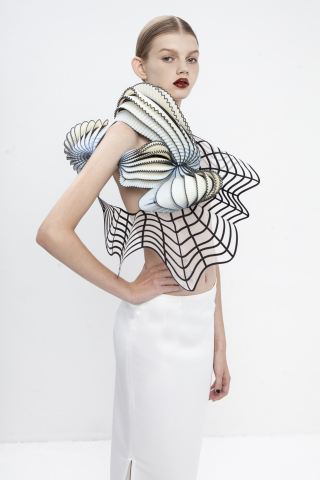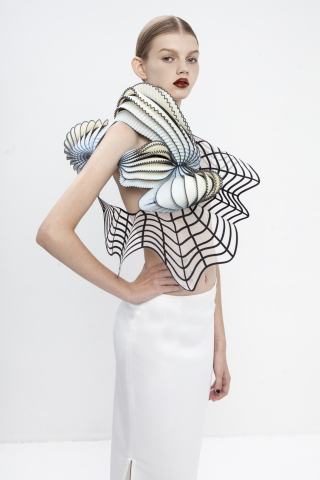 The exhibition, which is curated by Andrew Bolton, explores the dichotomy between hand-made and machine-made fashion and highlights 3D printed designs from talented designer Noa Raviv's "Hard Copy" collection, produced using advanced, multi-material 3D printing technology from Stratasys.
Mr Bolton said the exhibition aims to break down stereotypes about hand-made and machine-made garments and shows that both can be luxurious pieces of art.
"While traditionally assumptions link time-intensive delicate designs to hand-made fashion, technology has caught up and developed so much that nowadays, machine-made clothes are every bit as complex and delicate as handcrafted designs," he said.
"Combining the hand-crafted and machine-made, older designs and contemporary garments, haute-couture and ready-to-wear, the "Manus x Machina" exhibition enables visitors to look at fashion as art, without interference or barriers between the observer and the fashion pieces themselves."
The dresses feature a series of 3D printed black-and-white pieces, enabled by Stratasys multi-material 3D printing technology and hand-sewn on ruffled fabrics and grid-like patterns.
Stratasys said these voluminous shapes were produced on its Objet500 Connex3 Colour Multi-material 3D Printer, allowing Raviv to realise her vision of non-symmetrical distorted grid patterns and shapes.
"The technological capabilities of 3D printing open new doors to areas of design previously not possible with hand-crafted fashion," Raviv said.
"Through my collection I've been able to explore the tension between the real and the virtual, between 2D and 3D, and this inspired me to create imperfect digital images and distorted grid patterns that are impossible to produce using conventional methods."
Naomi Kaempfer, Creative Director, Art Fashion Design, Stratasys, said the company was "very excited" to be part of "Manus x Machina" through its collaboration with Noa Raviv.
"The exhibition explores the contrast between hand-crafted and machine-made design, which fits very much within our objectives of showcasing the design freedom that can be achieved using 3D printing technology," Ms Kaempfer said.
"Noa's work is a prime example of how aspiring designers turn some of the most challenging design concepts into reality."