At the largest trade show for the dental industry, the International Dental Show, in Cologne, Germany, 3D printing giant Stratasys unveiled the Objet260 Dental Selection 3D Printer – the latest addition to its highly successful dental line.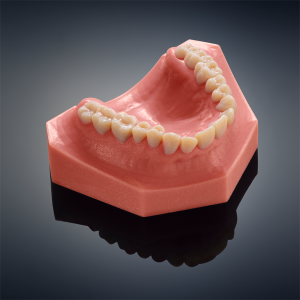 "We are using the Objet260 Dental Selection 3D Printer to produce realistic 3D printed gingiva masks and models we couldn't do before. We have not had 3D printed dental models that so closely resemble the actual teeth and gums. The initial reactions from our customers, which include dental technicians, dentists and surgeons, have been extremely positive. This is definitely going to help set 3DMedicalPrint apart from our competitors," said Stefan Remplbauer, general manager of Austria-based 3DmedicalPrint.
Compatible with all PolyJet dental materials, the new and highly versatile 3D printer is specifically designed to help mid- to large-sized dental and orthodontic labs grow their business by allowing them to produce realistic models "with true-to-life look and feel as part of their end-to-end digital dentistry workflow, including intra-oral scanners".
"With the introduction of the Objet260 Dental Selection, Stratasys is closing the loop in digital dentistry by providing a 3D printer that can take the colour digital file resulting from the intra-oral scanner and transform it into a colour, multi-texture dental model. This directly contributes to better accuracy for the dental practitioners and better understanding for the patients," said Avi Cohen, Director of Global Dental at Stratasys.
"For any dental or orthodontic lab looking for a competitive edge today and tomorrow, the Objet260 Dental Selection should be at the top of their list."
According to the press release by Stratasys, the new Objet260 Dental Selection is able to build diverse models with multiple materials on one tray, in one print job and is set to improve the accuracy and efficacy of digital dentistry.
For further information about the Objet260 Dental Selection 3D Printer, go to www.stratasys.com