Stratasys has done it again. The company pushed the boundaries of its existing technological capabilities, revealing another revolutionary 3D printed design piece with a combination of different material properties.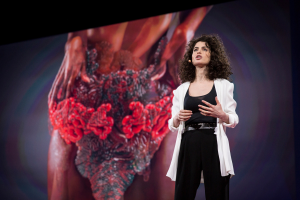 Namely, architect and designer Neri Oxman, a long-term collaborator of Stratasys, revealed the world's first 3D printed photosynthetic wearable, embedded with living matter, on the TED2015 stage in Vancouver.
Mushtari – the artwork 3D printed by Stratasys as the world's first wearable combining multi-material additive manufacturing and synthetic biology – was developed to host living organisms and to manipulate their function.
"This is the first time that 3D printing technology has been used to produce a photosynthetic wearable piece with hollow internal channels designed to house microorganisms. Inspired by the human gastrointestinal tract, Mushtari is designed to host synthetic microorganisms – a co-culture of photosynthetic cyanobacteria and E. coli bacteria – that can fluoresce bright colours in darkness and produce sugar or biofuels when exposed to the sun. Such functions will in the near future augment the wearer by scanning our skins, repairing damaged tissue and sustaining our bodies, an experiment that has never been attempted before," Oxman said.
Her team managed to create a large fluid network within Mushtari that varied in transparency from opaque to clear.
"This enabled varying levels of transparency and translucency to be designed into surface areas where photosynthesis was desired. Channels and pockets were implemented to enhance the flow and functionality of the cells – such mechanical and optical property gradation can only be achieved using multi-material 3D printing with high spatial resolution for manufacturing," Oxman said.
Mushtari is a continuation of a piece from Oxman's Wanderers: An Astrobiological Exploration, part of "The Sixth Element" design collection curated by Stratasys for Euromold 2014.
"We have fertile research collaboration with Professor Neri Oxman, one that has great reciprocal benefits as we push each other to the edges of expression and technological capability. 3D printing Mushtari is a wonderful example of how far this collaboration can bring us," added Naomi Kaempfer, Creative Director Art Fashion Design at Stratasys.
"The fluid channels in the wearable stretch to around 58 meters, with an inner channel diameter ranging from 1 mm to 2.5 cm, frequently turning sharply in new directions. Clearing the support material out from such a long, narrow and complex structure to create the hollow channels for living matter presented a significant challenge. Our R&D team went beyond the boundaries of our existing technology, formulating a dedicated improved support structure to allow a smooth, effective process in support of Professor Oxman's vision."